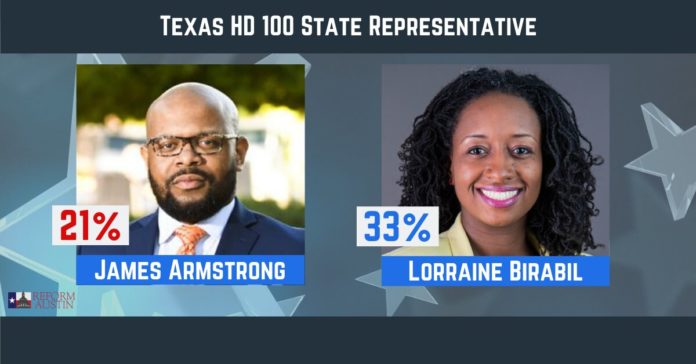 HD-100 results show the closest race of the special election was in Dallas. In a heavily Democratic south Dallas district formerly held by Mayor Eric Johnson, Lorraine Birabil claimed 33 percent.
However, Birabil's 2,274 votes aren't the story. Voters and politicos are wondering who Birabil will face in the runoff.
Early HD-100 results show James Armstong III claiming 20.76 percent. However, Armstrong received 1,421 votes. The third-place finisher, Daniel Davis Clayton, pulled in 1,416 votes — or 20.69 percent.
A five-vote lead all but guarantees a recount or at the very least a canvass of any uncounted absentee ballots. Armstrong and Johnson will try to determine who will make the runoff.
Sandra Crenshaw received 18.99 percent of the vote and even though he had dropped out of the race, Paul K. Stafford received 6.34 percent. 

For more reporting on education check out Reform Austin on Facebook, Twitter, and Instagram.