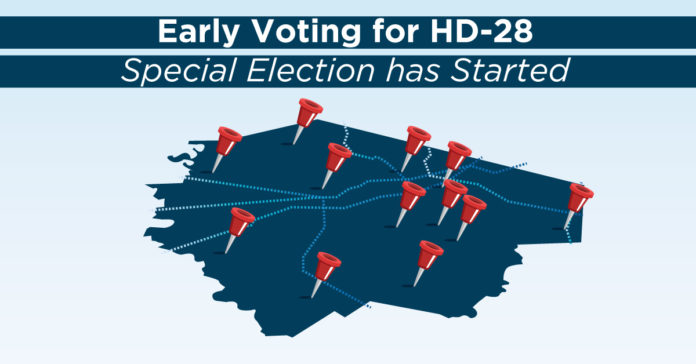 Early voting began in the Texas House District 28 special election today, Monday, Oct. 21. The seat became vacant when former representative John Zerwas resigned to accept a position as vice chancellor for Health Affairs of the UT Health System.
Early voting will continue through Friday, Nov. 1, Election Day is Tuesday, Nov. 5. Click here for Reform Austin's voter guide.
Polling locations and timings for Early Voting can be found below and here.
On the ballot is one Democrat, Eliz Markowitz, and six Republicans. Chief among the GOP candidates are perennial candidate and real estate mogul Gary Gates and Anna Allred, an anesthesiologist from the same practice as Zerwas.

Also on the ballot are Tricia Krenek, a former Fulshear city councilwoman, and a former DEA agent Gary Hale.
Rounding out the field are Sarah Laningham, a former Republican primary candidate in College Station House District 14, and Clinton Purnell a Logistics & Customs Compliance Manager.