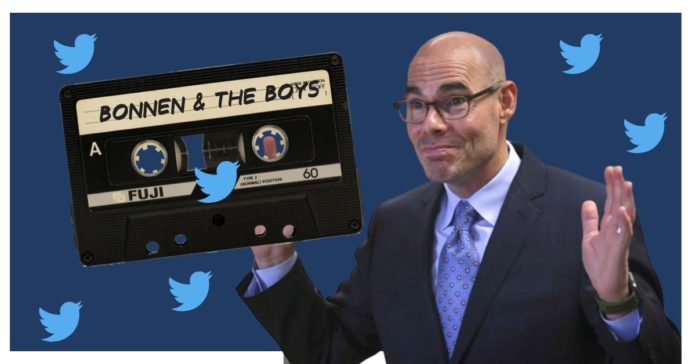 On Tuesday, the much-hyped secret recording at the center of the "Bonnghazi" political scandal splintering the Texas House was released to the public, as was a transcript. The actors in the June 12 meeting were the conservative activist and leader of Empower Texans, Michael Quinn Sullivan, Texas House Speaker Bonnen (R-Angleton) and former House GOP Caucus Chair Dustin Burrows (R-Lubbock).
The response has been largely critical of the Speaker, including some elected officials calling for his resignation. Here is a highlight of the tweets the tape inspired:
First Reactions
A survey of un-edited stream of consciousness
Texas Realtors Political Affairs Specialist sums it up
Protip: Skip the first 9 min. to hear the substance of the meeting
Escargot were apparently criticized by Sullivan in the tape
inbox: texas escargot association deplores "insensitive and hurtful comments" on secret bonnen tape #txlege

— Christopher Hooks (@cd_hooks) October 15, 2019
Retiring Rep. Jonathan Stickland (R-Bedford), funded by Empower Texans, already heard the tape
Wells Dunbar, Texas Standard producer, gives a common refrain since the scandal started
man, it's just amazing that Bonnen consented to this meeting

— Wells Dunbar???????? (@WellsDunbar) October 15, 2019
One of the new revelations from the recording: Hating on cities & counties affects everyone
https://twitter.com/OnTheLege/status/1184132447769890818
The irony of Sullivan being asked if the meeting is confidential
after bonnen says rosenthal is in the closet—"this is all confidential"—sullivan lets loose with a snorting, riotous laugh that seems to indicate that the wired-up are capable of feeling a special kind of joy not available to the rest of us

— Christopher Hooks (@cd_hooks) October 15, 2019
Mayor of Austin Steve Adler was a target of the Local Gov't Hate
Glad to hear these bills restricting property tax increases & municipal lobbying had an important reason behind them: to mess with Austin's mayor #txlege pic.twitter.com/F01juXvgzR

— Wells Dunbar???????? (@WellsDunbar) October 15, 2019
The Players
A journalist and several elected officials were mentioned on the tape.
Scott Braddock, Journalist and Editor for the Capitol Insider Quorum Report
Having now heard what Speaker @RepDennisBonnen said about me, I'd say he owes an apology over my media credential. Not to me, but to Texas House members (who voted on the rules for credentials) for using a floor pass as political currency. Not even @DanPatrick did that #TxLege

— Scott Braddock (@scottbraddock) October 15, 2019
Calls to Resign from Members of the "List"
Ten Republicans were listed as targets in the primaries by Speaker Bonnen & Rep. Dustin Burrows for Empower Texans to spend against
Steve Allison (R-San Antonio)
.@stevefortx, a House R on the political target list, also says he's no longer able to support @RepDennisBonnen as speaker.

Allison says he implores both Bonnen and @Burrows4TX "to take the necessary actions to do what is right in this disturbing situation." #txlege pic.twitter.com/OIB42a8eSd

— Cassi Pollock (@cassi_pollock) October 21, 2019
John Raney (R-College Station)
Please see my statement below regarding Speaker Bonnen and Chairman Burrows #txlege pic.twitter.com/YLGnbAOegn

— John Raney (@RaneyForTexas) October 18, 2019
Drew Darby (R-San Angelo)
"After hearing the audio, it is clear that Speaker Dennis Bonnen and Representative Dustin Burrows betrayed those who had confidence in them to lead, and they abandoned their solemn, sworn charge to faithfully execute the responsibilities of elected office." 2/4

— Drew Darby (@DrewDarbyTX) October 17, 2019
"This has gone on for too long. It is time for the House to begin to heal and rebuild trust, and that can only be accomplished when Speaker Bonnen and Representative Burrows are no longer in leadership positions." 4/4

— Drew Darby (@DrewDarbyTX) October 17, 2019
Kyle Kacal (R-College Station)
.@KyleKacal, a House R on the political target list, says in a statement that it's "in the best interest of the Texas House to take action to regain the trust of the body … and do so under new leadership." #txlege pic.twitter.com/Vcmex5q8kd

— Cassi Pollock (@cassi_pollock) October 17, 2019
Trent Ashby (R-Lufkin)
More news — @TrentAshbyTX is the third House R on the political target list this PM to call for @RepDennisBonnen's resignation.

"I condemn the actions of [Bonnen], and I believe he should step aside so that we can properly begin the healing process," Ashby says. #txlege pic.twitter.com/2wgW1O1lWU

— Cassi Pollock (@cassi_pollock) October 17, 2019
Tan Parker (R-Flower Mound)
New — @tparker63, another House R on the political target list, calls for @RepDennisBonnen to resign.

"I believe Speaker Bonnen should resign in order for the House to heal and move forward," Parker says. #txlege pic.twitter.com/8Qs64ayKtX

— Cassi Pollock (@cassi_pollock) October 17, 2019
Stan Lambert (R-Abilene)
Here's another statement from a House R on the political target list — this one from @RepStanLambert:

"… it's clear that the Speaker tried to cut a deal to spare himself while authorizing campaign activity against … members he publicly pledged to protect." #txlege pic.twitter.com/UWREVIRJNw

— Cassi Pollock (@cassi_pollock) October 16, 2019
rep. stan lambert calls for the resignation of speaker bonnen: https://t.co/q8VhDFkLkw #txlege

— quorumreport (@quorumreport) October 17, 2019
Earnest Bailes (R-Shepherd)
New: @Bailesfortx, a House R on the political target list, says @RepDennisBonnen/ @Burrows4TX have not "shown regret or remorse for their cold and calculated corruption.."

"To target me is to attack the rural Republican values," Bailes says, & "I will not stand for it." #txlege pic.twitter.com/q2CTkDZ3Hv

— Cassi Pollock (@cassi_pollock) October 16, 2019
Travis Clardy (R-Nacogdoches)
.@travisfortexas: It's political corruption and it must be treated as such #txlege https://t.co/sgmNkfbMks

— Jay Leeson (@jayleeson) October 16, 2019
Phil Stephenson (R-Wharton)
New: Rep. Phil Stephenson says @RepDennisBonnen should resign, not just as speaker but from the House. "Time to cut the head off the snake." Says resignation will be big subject of conversation during caucus. Thinks between 35-40 R's will ask for resignation. Story tk #txlege

— James Barragán (@James_Barragan) October 16, 2019
Dems Mentioned on the Tape
Jon Rosenthal (D-Houston): Stays focused on his constituents, not "distractions"
"Together we will focus on the issues that matter to our neighbors, from funding public schools to flood mitigation. We will continue listening to the Texas voters and leave the distractions and ego at the door." -State Representative Jon Rosenthal #txlege pic.twitter.com/abNN9mHYpv

— Jon Rosenthal (@Jon_RosenthalTX) October 15, 2019
Michelle Beckley (D-Carrollton): Fundraising off the Tape
In the now public recording between the Speaker of the House & Empower Texans it's clear we're being targeted for having strong Democratic values.

Send a message to the Speaker that we aren't going anywhere – https://t.co/veFqgngJbD #txlege @texasdemocrats @BoldProgressive pic.twitter.com/QbTrTQgk7g

— Michelle Beckley (@ForHD65) October 15, 2019
Ana-Maria Ramos (D-Dallas): One of the plaintiffs with Texas Democratic Party in the Lawsuit against Sullivan
We made them release the audio! Bonnen-"My goal is for this to be the worst session in the history of the legislature for cities and counties." Burrows-"I hope next session is even worse!" They are attacking our police, parks, schools, and communities! https://t.co/lQYxp3MM3H

— Representative Ana-Maria Ramos (@Ramos4Texas) October 15, 2019
Other Reactions
An odd pairing
TX Dems. Empower Texans

????
going after Bonnen

What an interesting #txlege day.

— María Méndez (@anxious_maria) October 15, 2019
Words of Caution to Texas Legislators
Sad day for all Texans.

Depressing. Demoralizing. Debasing.

Some unsolicited pastoral counsel for #txlege:

Have nothing to do with @EmpowerTexans. Nothing.

— Pastors for Children (@pastors4txkids) October 15, 2019