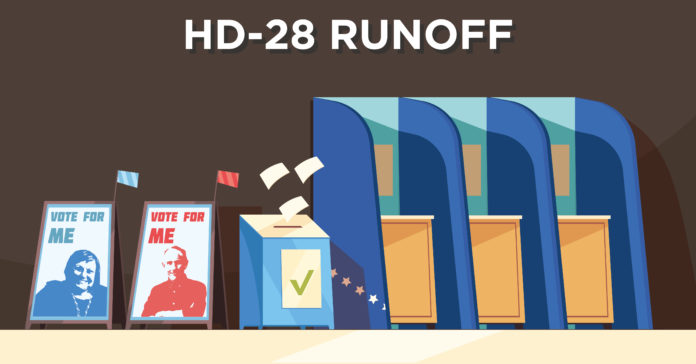 HD-28 runoff could turn a Fort Bend County seat blue. The next Republican stronghold poised to flip to the Democrats is Texas House District 28. For that to happen, there will be an HD-28 runoff election. Here's a basic guide to what all those words actually mean.
What is a runoff election?
A runoff election is like overtime in football or basketball. Since there wasn't a clear winner in the last election the top two candidates have to run in a separate election.
To avoid costly, time-consuming runoffs some states have implemented ranked-choice voting which allows voters to cast ballots for their top picks.
Because Texas doesn't have ranked-choice voting, we use runoff elections, and we use them a lot. If the HD-28 runoff goes to the worst-case scenario, Fort Bend County could have five elections for state representative by November 2020.
When is the election?
Election Day is January 28 and the first day of in-person early voting is Jan. 21.
Where is HD-28?
The district covers a portion of Fort Bend County and includes the Katy, Cinco Ranch, Fulshear, Simonton and portions of Sugar Land and Houston. The district is home to 160,373 people.
Who is the incumbent?
Surprisingly, nobody. It's kind of a strange story. Physician John Zerwas, a Republican, has held the seat since 2007. He eventually became the powerful chairman of the budget-writing House Appropriations Committee under Speaker Dennis Bonnen.
Despite his distinguished position and being consistently labeled one of Texas' best legislators, he announced his resignation at the end of July. Although Zerwas' decision caught Texas politicos by surprise, it wasn't totally unexpected.
Zerwas won reelection in 2018 with 54.2 percent of the vote. An 8.4 percent margin of victory may seem like a lot. However, considering Zerwas won his last competitive race with more than 70 percent of the vote, so a 54.2 to 45.8 victory is considered a close call.
He left public office in September. Since October 1, Zerwas has served as the executive vice chancellor for health affairs for the University of Texas System.
The HD-28 seat is now vacant.
Didn't we just have an election?
Yep, but unfortunately, HD-28 wasn't decided in it. Republican businessman Gary Gates self-funded a $500,000 campaign to succeed Zerwas. He is being challenged by Democrat Eliz Markowitz.
Markowitz is a trainer, instructor, and writer for the Princeton Review. The Texas Democratic Party had been eyeing HD-28 for a while as a potential flip, and Markowitz knocked on 60,000 doors and raised $300,000 in her attempt to win the seat.
Following the November election, neither candidate achieved the majority necessary to win outright. Markowitz won a plurality of votes (39.1 percent), while Gates ended up splitting the Republican vote with four other candidates and ended up with only 28.4 percent. Had he been the only Republican running, he would have won outright. Now they will go to a run-off.
Do they have to race for it?
Fun idea, but no. The two candidates will now have the ballot all to themselves in a special election in January for citizens of Fort Bend. Early voting begins January 21st, and Election Day is January 28.
Because special and runoff elections always see far fewer voters than general and midterm elections, it often means that individual votes tend to be more crucial.
If you have ever wanted proof that your vote matters, the HD-28 runoff election is the perfect example.
What can you tell me about the two candidates?
Eliz Markowitz (D) is currently a corporate trainer and author working for the Princeton Review. She's served in the U.S. Department of Health and Human Services and started out in the Agency for Healthcare Research and Quality. Later, she transferred to the Office of the National Coordinator: Health Information Technology's office. Her mission statement from her website reads:
I'm running to represent Texas House District 28 because I believe education is about more than standardized tests, because no Texan should have to worry about finding affordable healthcare, and because Texans deserve a working government that will finally take infrastructure and disaster management seriously.
Gary Gates (R) is a commercial property owner and landlord who is known for losing seven prior elections to various offices before running for this one. Gates' reputation as a landlord is particularly unsavory.
When Gates ran for a seat on the Texas Railroad Commission in 2016, his Republican primary opponent Wayne Christian — who went on to win the seat — called Gates "a slumlord."
Christian's attack was based on a series of lawsuits filed by the city of Houston and residents of Gates' apartment complexes. Gates faced allegations of neglecting crime at some of the low-income apartment complexes he owned.
Gates' alleged negligence led to the death of an off-duty HPD officer, as well as the shooting of a 9-year-old boy. A 2007 nuisance lawsuit filed by the city of Houston documented 55 offenses on Gates' property over a two-year period.
Complaints ranged from "prostitution and drug offenses to sexual assault and capital murder," according to a report from the Texas Tribune. The city of Houston was attempting to get Gates' Deerfield Apartments closed because of the rampant crime.
Rather than cleaning up his property, Gates countersued and claimed that any crimes that occurred on his property weren't caused by his tenants.
Governor Greg Abbott has endorsed Gates. Gates has stated that his main issues are lowering property taxes, increasing security for Texas schools, deploying National Guard troops to the border, and protecting businesses from consequences arising from LGBT discrimination.
He is also "100% pro-life" and has "opened their home and adopted children that the system left behind." However, Gates' pro-family stance is the subject of intense scrutiny because of a 2000 lawsuit between Gates and the Texas Department of Family and Protective Services.
After Gates' foster children made multiple allegations of abuse CPS caseworkers and law enforcement officers removed the children. However, the CPS employees didn't follow the appropriate protocols for emergency removal which resulted in the children being returned to Gates.