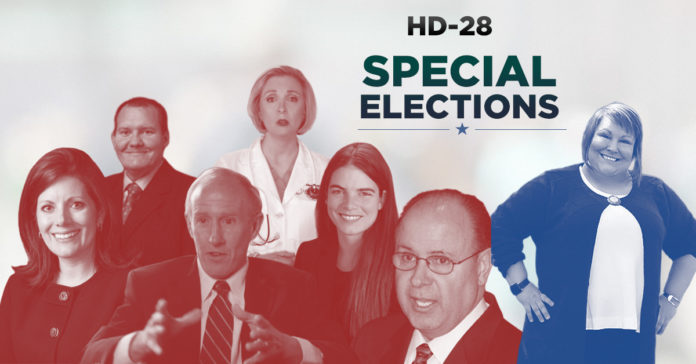 The filing deadline to run in the Texas House District 28 special election was yesterday at 5 p.m. The election will be held Nov. 5. And voters will head to the polls to elect a replacement for retiring State Rep. John Zerwas (R-Richmond).

Zerwas has represented District 28, which stretches from Katy to Rosenberg and from Simonton to Houston, since 2006. For the last two sessions, Zerwas has served as the chair of the budget-writing House Appropriations Committee.

Although Zerwas announced his retirement from public office on July 31, it won't take effect until Sept. 30. Zerwas, an anesthesiologist, will join the University of Texas system as an executive vice chancellor for health affairs.

Zerwas' appointment is effective Oct. 1, when he replaces Ray Greenberg, who stepped down in March. During the most recent fiscal year, Greenberg received a $720,000 per year salary, according to a UT system accountability report.
Seven candidates have filed to run for the office, six Republicans and one Democrat, Eliz Markowitz. Because it is a blanket election, e.g. one without a primary, all seven candidates will appear on the ballot together.

Markowitz is a resident of the Katy area and holds multiple degrees. She has a Ph.D. in education, two master's degrees in science and a bachelor's degree in computer science.

While pursuing her degrees, Markowitz also worked for the U.S. Department of Health and Human Services, initially working in the Agency for Healthcare Research and Quality before transferring to the Office of the National Coordinator: Health Information Technology's office.

Markowitz went on to receive her Ph. D. in education from the University of Houston. She currently works at the Princeton Review as a teacher, corporate trainer, content developer, and author.

Education is a central plank in Markowitz's platform. She supports replacing the STAAR test with alternative performance measures and encourages the expansion of vocational training.

On the Republican side is Gary Gates, who owns multiple low-income apartment complexes throughout Houston. Gates has lost seven previous campaigns for office.
Gates' most recent defeat was in a race for the Texas Railroad Commission. The 2016 campaign was particularly brutal, with Gates facing allegations of abusing his foster children in the early 2000s and willfully neglecting the crime at his properties.

Gates' opponent, Railroad Commissioner Wayne Christian, called Gates "a slumlord."

Joining Gates on the ballot is Tricia Krenek, a former Fulshear city councilwoman. Krenek served on the council from 2014-18. She then ran a losing campaign for judge of Fort Bend County's County Court at Law 3.

Along Gates and Krenek, Gary J. Hale has filed. Hale is a nonresident fellow at the Baker Institute. He previously served as chief of intelligence for the DEA's Houston field office. Hale has yet to create a campaign website or release a platform so it's difficult to determine where he stands on the issues.

Another Republican running is Sarah Laningham, who is a salesperson who lives in Richmond and is running as a staunch social conservative. Her platform is strongly anti-abortion and pro-gun. Laningham has also said she wants to "protect churches" and secure the border.

Also on the ballot is Clinton Purnell, a long-time Fort Bend County resident. Purnell, a logistics specialist, has never held elected office before and has no campaign website.

Rounding out the ballot is Anna Allred, an anesthesiologist, and Zerwas' business partner. Allread has also donated heavily to Zerwas' previous campaigns and has contributed to medical and anesthesiologist lobbying groups.

Since early voting starts on Oct. 21, the candidates will have just seven weeks to impress the voters. If no one emerges with more than 50 percent of the vote, the two candidates receiving the largest number of votes will go to a runoff, regardless of their political party.