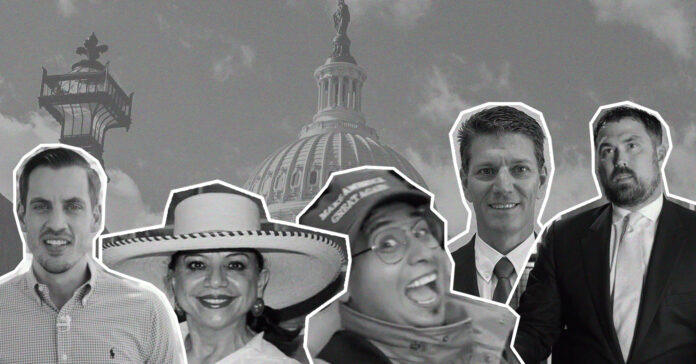 With the Texas primary just around the corner, the Houston Chronicle and Hearst Newspaper reported that only 13 Republican candidates say the 2020 election was legitimate.

Confirming a new level of Trump loyalty amongst the GOP party – only "real" Republicans endorse the Big Lie.

According to The Houston Chronicle, "of the 86 with discernible stances, at least 42 have said outright that the 2020 election was stolen, called the results illegitimate, or said they would have voted not to certify. Another 11 candidates have said there was enough fraud or irregularities to cast doubt on the results of the election. Just 13 said the results were legitimate."
That is only 9% of all the Republicans running for Congress this year.
What Hearst Newspaper and The Houston Chronicle reported are not isolated findings. According to CNN's latest national poll, 70% of Republicans said President Joe Biden's victory was not legitimate. Another 45% of Republicans said that there was "solid evidence" to prove that fact.
A statewide survey from late January to early February, conducted by UT Austin, showed 67 percent of Republicans did not believe Biden legitimately won the 2020 election, three times the number who said he had.
"The belief in widespread voter fraud is becoming the article of faith among Republicans," said Joshua Blank, research director for the Texas Politics Project at the University of Texas at Austin.

According to CNN, President Donald Trump has managed to turn election denialism into a loyalty test for ambitious Republicans.

CNN gives a couple of examples of these GOP members: 
Candidates like former Sen. David Perdue in Georgia, said late last year that he would not have signed the election certification if he had been governor.

Ohio Senate front  front-runner Josh Mandel told a debate audience that "I believe the election was stolen from Donald J. Trump."

Rep. Billy Long, who is running for the Senate in Missouri, has run TV ads pledging to "stop the Democrats from stealing another election."

Kari Lake, the Trump-endorsed frontrunner in the Arizona gubernatorial race, has called for the state's Secretary of State to be jailed for her role in the 2020 election.
In conclusion, echoing Trump's baseless claims that Democrats stole or rigged the election appears to have become a rite of passage for Republicans.

An initiation to the most "exclusive" frat house of the nation.