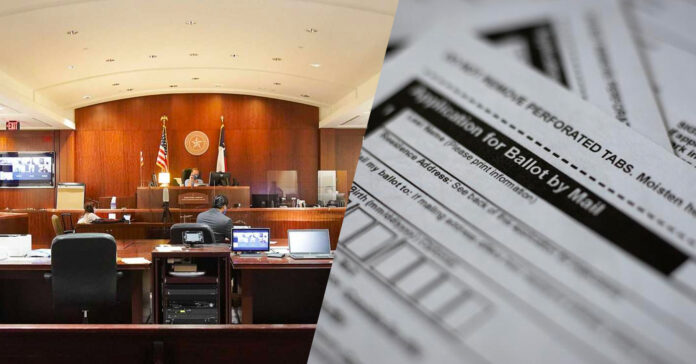 Around a year ago, Eric Coomer found himself in the wrong place at the wrong time and landed right in the middle of 2020 election fraud conspiracy theories.
After being accused of tampering with the company's machines to steal the election from Trump, Coomer, an employee of Dominion Voting Systems, filed a 52-page lawsuit against Trump's campaign team and attorneys Rudy Giuliani and Sidney Powell.
The lawsuit was filed in Denver on Dec. 22, 2020. It also named Joseph Oltmann, a Trump supporter, as a defendant, and One America News Network correspondent Chanel Rion, Newsmax, and other individuals and organizations, as reported by the Courthouse News Service.
Coomer is suing for defamation, stating they grabbed onto an unsubstantiated narrative and led a social media army against him.
It all started a few days after the presidential race was called for Joe Biden last November, Joe Oltmann, a right-wing podcaster, claimed Coomer had tampered with the company's machines to steal the election from Trump. Oltmann stated he had learned of the conspiracy by infiltrating an Antifa (short for "anti-fascist") conference call.

According to the Courthouse News Service, on his call Oltmann said a man named Eric told the group, "Trump is not gonna win. I made f-ing sure of that." According to the lawsuit, Oltmann then honed in on Eric Coomer by googling the terms "Eric," "Dominion," and "Denver, Colorado."

The lawsuit states, "Dr. Coomer has no knowledge of an alleged 'Antifa Conference Call, and did not participate in such alleged call; Dr.Coomer did not make the comments Defendants falsely attribute to him, and Dr. Coomer did not take actions to subvert the presidential election as defendants falsely allege. "
Neither Giuliani nor Oltmann have produced any evidence of the alleged call.
Following Coomer into the battlefield are Cain and Skarnulis. Going up against some of Trump's closest allies was never their plan, coming from a small law firm in Austin, they had only dabbled in cases involving construction and insurance companies, or East Texas oil and gas disputes.
They are also heavily outnumbered, at a recent hearing about whether the case should move forward, Cain & Skarnulis' six-person team faced off against a group of about thirty lawyers, as reported by Texas Monthly.
Cain said any doubt about taking the case has been erased. They believe confronting the big lie is more important now than ever because of how dynamic and dangerous the conspiracy theory remains.
"I liken it to a rising sea: it's not going away, and the only way we'll be able to combat this mass movement is by moving to higher ground and shining a light on what's going on," he said. "This case is going to help, but if we're not vigilant in this country things are going to rapidly deteriorate."
Shining a light into Trumworld disinformation, Coomer's lawyers believe his case will become one of the most important, helping understand how Republicans and conservative media outlets legitimized lies about the election.
According to Texas Monthly, Coomer's lawsuit is currently pending in a Colorado court, where the defendants, including Giuliani, are attempting to have the case dismissed using Colorado's anti-SLAPP law, a rule that is designed to protect journalists from frivolous lawsuits.
Should the case proceed, it is likely headed to the Colorado Supreme Court next year.
For the time being Guiliani's law license was suspended in New York after the court ruled he made "demonstrably false and misleading statements," as he led Trump's challenges of the election results.