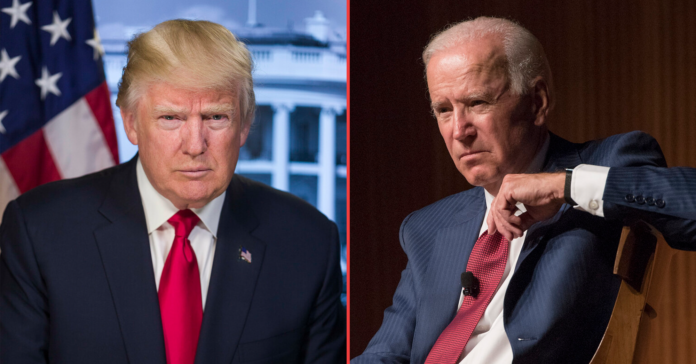 President Donald Trump and former Vice President Joe Biden are neck-and-neck in Texas, with Trump receiving 44% of the vote and Biden receiving 43% in a general election matchup, according to a Quinnipiac University poll.
Voters say that Trump would do a better job handling the economy, but that Biden would do a better job handling health care.
Voters are split on who would do a better job handling the response to the coronavirus, with 47% saying Biden and 45% picking Trump.
"Too tight to tell in Texas. As the country confronts chaos and COVID-19, perhaps one of the most important states of all is a toss-up," said Quinnipiac University Polling Analyst Tim Malloy.
The polling confirms Texas' status as a battleground state. Although the state's big cities are viewed as islands of blue in a red state, the last time the entire state went blue was 1976, when Jimmy Carter ran for president. The Republican party has dominated Texas state politics since the 1990s, when Democrat Ann Richards lost the governor's office to George W. Bush.
About six in 10 Texas voters say there should be expanded voting by mail due to the coronavirus pandemic. There are wide partisan gaps, though. Ninety-one percent of Democrats and 61% of Independents say "yes" to voting by mail, while 68% of Republicans say "no."
"'Mail it in,' say a majority of virus wary Texans, with Democrats far more willing to let the Post Office deliver their vote," added Malloy.
On the state's handling of coronavirus, 56% of voters approve of Gov. Greg Abbott's approach, while 36 percent disapprove.
When asked about the speed at which Abbott is lifting restrictions, 49% say he's handling it "about right," 38 percent say "too fast," and 12 percent say "not quickly enough."
Approval ratings for Texas' two U.S. Senators have fallen since the university's last poll in September. Sen. Ted Cruz (R-Houston) receives a 45 – 42 percent job approval rating, compared with 49 – 40 percent in September 2019.
Sen. John Cornyn (R-Houston), who is up for re-election this year, receives a split 37 – 36 percent job approval rating, compared with 41 – 34 percent in September.
Just under two-thirds of voters say people should be required to wear face masks inside businesses in Texas, while a lower number, 58%, say people in Texas should be required to wear face masks in public. Roughly three-quarters of voters in Texas say they wear a mask when they are out in public.
Finally, when it comes to the fall, about half of Texas voters have concerns about putting their kids back on school buses.
The poll surveyed 1,166 self-identified registered Texas voters from May 28 – June 1. There is a margin of error of +/- 2.9 percentage points.