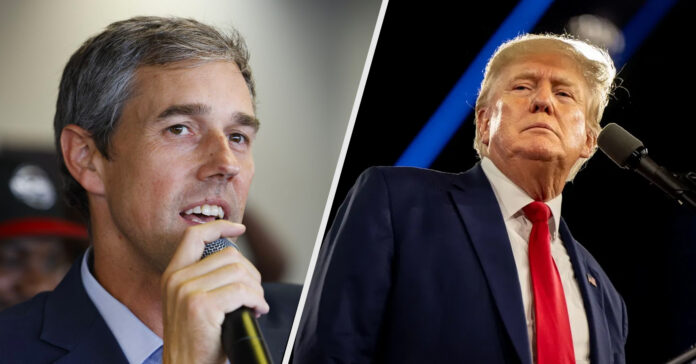 Democratic gubernatorial candidate Beto O'Rourke's plan to reach voters in the reddest parts of Texas seems to be working. A huge number of videos show former supporters of Governor Greg Abbott flipping their allegiance thanks to O'Rourke's intensive town hall schedule.
"I have been a Republican all my life," says one woman from Clarkeville. "I came here to hear Beto for the first time. What's important is the children in the schools, the education, the property taxes. I would love to have a better break than what I have now. And, I also love what he said about possibly making cannabis legal because of my arthritis and body issues. Cannabis would be a great help. I am a great grandmother, and this is the first time I am voting for Beto and as a Democrat."
The video also shows numerous people asking O'Rourke to sign Make American Great Again hats as a kind of official switching of side.
Another video shows a former President Donald Trump voter in Whitesboro also enthusiastically backing O'Rourke.
"I've been a lifelong Republican voter. I actually voted for Donald Trump," says one man. "Absolutely 100 percent Beto supporter. He's very intelligent. He has well thought out approaches, and you spend a little time listening to him, take a little time to listen to what he has to say about these different issues. It's not left or right. It's about Texas,a nd that's what we need to hear."
One of the issues that seem to be resonating with former Abbott supporters include expanding Medicaid. Abbott has consistently refused to engage with the Medicaid expansion part of the Affordable Care Act, leaving billions of dollars of federal money on the table that would mostly go to providing low-income Texans with health insurance.
O'Rourke seems to be building on his remarkable success during his 2018 senate run against Ted Cruz. Though he ultimately failed to capture the seat, he came within 3 percentage points of being the first Democrat to hold statewide office in Texas in more than two decades. One of the keys to his near win was reaching out beyond the liberal strongholds of the clue cities like Houston and Austin.
According to Newsweek, O'Rourke managed 8 percent of Republican support in 2018, and as much as 50 percent of independents. These numbers were likely achieved by his now legendary crisscrossing of the state, stopping in every county in towns that might have as few as 500 people and who voted for Trump by 70 percent or more.
Texas residents' willingness to consider an alternative to Abbott is shown in the polling. While he still leads O'Rourke by 5-7 percentage points, the governor has not been able to get above 50 percent of the vote since the beginning of summer. The dramatic restriction of voting access, reproductive rights, and protections for LGBT children has contributed to a significant political wind change. Formerly, Democrats were widely predicted to be soundly beaten in the midterms, but now even stalwarts like Abbott seem to be bleeding support.