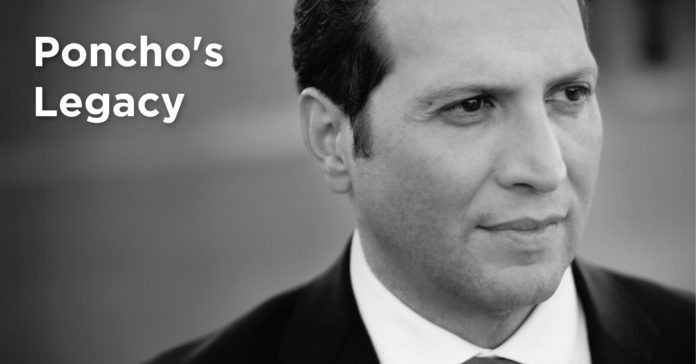 Poncho Nevárez's legacy will go down as one filled with good, bad and WTF moments. Former representative Alfonso "Poncho" Nevárez (D-Eagle Pass) recently came into the headlines when, two months back, he was caught on tape dropping a sealed envelope labeled with his official House signature as he was exiting the Austin airport. Inside, the envelope contained two grams of cocaine.
On November 15, Nevárez turned himself into the Texas authorities and is currently facing a third-degree felony charge of drug possession with a maximum potential sentence of 10 years in prison.
This scandal came as a particular surprise considering Nevárez's outspokenness of being tough on crime and his position as chair of the House Committee of Homeland Security and Public Safety. Early in his career, Nevárez had received a firm endorsement from the Texas Municipal Police Association for his stance on crime and public safety. The TMPA's Executive Director, Kevin Lawrence was quoted saying:
"We are confident that he will be a strong voice for law enforcement in the Texas Legislature, a staunch defender of the Constitution and as tough as nails on crime."
In the three terms Nevárez served in the Texas House, he created a name for himself as being raucous, assertive and forceful, which garnered him friends and foes alike.
If a man is judged by the company he keeps, and politicians are judged by what they accomplish – then Nevárez's legacy can be viewed as a mixture of good, bad and outright confusing.
Poncho Nevárez Legacy: The Good
In his first term at the Texas legislature, Nevárez was awarded the Freshman Democrat of the Year. That first year marked some of the best of Nevárez's accomplishments. During this time he passed legislation that included:
1. HB 908- A bill that helped protect and ensure the safety of the elderly and disabled
2. HB 1597- A bill that allowed veterans to pay their property taxes in installment payments
3. HB 908- A bill that involves "the assessment of an elderly or disabled person's psychological status for the purpose of an emergency order authorizing protective services."
This legislative session marked the best of what Texas politics can be. It also represented the best session of Poncho's short career. By focusing on real problems that impact the daily lives of ordinary people, he ensured the betterment of the state.
Poncho Nevárez Legacy: The Bad
Beyond his recent scandal, the most ominous and questionable points of Nevárez's career include moments of potential nefariousness and overlapping personal and political interests.
Between January 2013 and January 2015, Nevárez violated campaign finance regulations in four separate reports filed to the Texas Ethics Commission. In these reports, it was listed that Nevárez "accepted political contributions from corporations and labor organizations" as well as "made improper personal reimbursements" from campaign funds.
While Nevárez maintained these had been "unintentional" errors, he oftentimes waded in murky waters.
Most demonstrably was at the end of the 86th legislative session in 2019. During this time, Nevárez co-sponsored a bill on domestic violence that had the unanimous support of both the House and the Senate. Three days prior to the end of the legislative session, Nevárez added an amendment to the bill. This amendment had nothing to do with domestic violence and instead served as a $4 million "giveaway" to a politically powerful company in West Texas.
By attaching an unrelated amendment Nevarez caused the bill to die on the governor's desk.
This prevented survivors of domestic and family violence from receiving increased protection.
Poncho Nevárez Legacy: The WTF
Poncho Nevarez legacy is pockmarked with several nonsensical moments.
The most well-known of Nevárez's WTF moments is probably the time he got into a fight with another legislator on the floor of the Texas House.

In 2017, on the last day of the legislative session, a heated argument broke out between Poncho Nevárez and fellow Texas Representative, Matt Rinaldi (R- Irving). As tensions arose among protestors of a Senate bill banning sanctuary cities, Rinaldi claimed to have called Immigrations and Customs Enforcement to report the protestors as undocumented immigrants. This led to a shoving match between Rinaldi and Nevárez and ended with a threat from Rinaldi to put a bullet in Nevárez's head.
But perhaps most confusingly was when Nevárez aided in killing a bill designed to limit the amount of arrests for fine-only offenses. Nevárez claimed his reason for doing so when he had previously shown the bill his support was an amendment that he said would reduce racial profiling. However, soon after the bill failed due to mass confusion, it came to light that Nevárez had been the one to propose the controversial amendment.
As a whole, Poncho Nevárez's legacy in the Texas House is complicated. And in three terms Nevárez managed to make a name for himself both good and bad. The bigger question now is: Who will take his place?