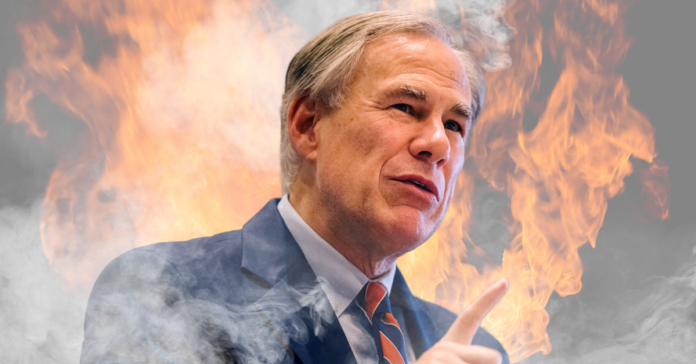 Humans are by nature pattern-seeking animals. If someone does something harmful to the community but is not punished for it, or even profits from it, then it is perfectly reasonable for them to keep doing it until circumstances change. Which is why, if Governor Greg Abbott is re-elected, there is no compelling reason to think another tragedy like Winter Storm Uri in 2021 will not eventually repeat.
Uri was bad across the nation, but it devastated Texas. Millions of residents were without power in freezing temperatures for days, killing 240 of them, the highest total of any state. One Austin woman, Connie Mae Richey, died from sepsis after the urine in her catheter froze.
However, for a tiny number of people, the catastrophe was like winning the Powerball Lottery ten times over. Specifically, natural gas companies made $11 billion as the rest of the state suffered. As Richey's family desperately searched for a hospital to take her to, Comstock Resources held their quarterly earnings call. One executive said, "obviously, this week was like hitting the jackpot."
This was thanks in no small part to Abbott and Texas Republicans' long history of prioritizing oil and gas profits over reliability for access to residents. Shortly before the storm, gas companies reduced their output, leaving them with a huge stash of fuel. This would come in handy later when regulators raised the wholesale electricity price from $25/megawatt hour to $9,000. Energy grid operators were suddenly paying enormous amounts for what the gas companies had to sell.
Don't feel bad for the grid operators. When Abbott signed a miniscule grid reform bill in the subsequent legislative session, that cost was securitized by Texas taxpayers. For an entire generation, residents will be paying off the jackpot Uri gifted to the natural gas companies.
This is how the system is designed. Texas' deregulated market is profit driven. No matter how much energy the state produces or how many safety regulations are rolled back, the people responsible for the power will almost always choose to invest in what makes more money even if it endangers customers.
That's why a 2011 report on a previous freeze went almost completely ignored. The Electric Reliability Council of Texas (ERCOT) and the Public Utilities Commission (PUC), whose heads are appointed by the governor, never made winterizing the grid mandatory. All they could do was suggest, and since winterizing costs money while other expenditures make money, the companies largely left things as they were.
Abbott has been handsomely rewarded for maintaining this status quo. Oil and Gas companies have donated a combined $26 million to his campaigns over the years. Following Uri, he received $4.6 million from oil and gas executives, particularly Energy Transfer. In turn, he continues to appoint former industry people to ERCOT and PUC.
At every step of this process, the people whose refusal to prioritize public safety have seen only large cash rewards. They will continue unless stopped. If Abbott wins re-election, there is no hope for tougher regulations that will make the grid less weak. A win will show him that the people of Texas consider hundreds of deaths and days of darkness an acceptable price for the enrichment of energy billionaires. Why would they interpret that win as anything else? It's not their fault they see the pattern.