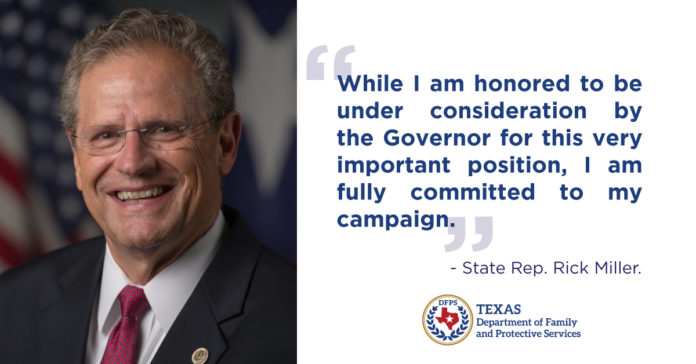 On the heels of the retirement news from fellow Fort Bend County State Rep. and Chair of the Appropriations Committee John Zerwas (R-Richmond), Governor Greg Abbott revealed that four-term State Rep. Rick Miller (R-Sugar Land) was on the shortlist of candidates for Commissioner of the Texas Department of Family Protective Services (DFPS).

The position of DFPS Commissioner is scheduled to open in September, following former Texas Ranger Hank Whitman's retirement announcement in late May. The Texas child welfare chief oversees Child Protective Services, Adult Protective Services and foster care systems. Should Miller become commissioner, he will inherit the problem of fighting Child Protective Services' ongoing legal battles.

Miller had a close race in 2018, winning by a margin of 4.8 points. Former Congressman Beto O'Rourke, who ran for Senate in 2018 against Ted Cruz, won the district by 1.6 points, suggesting the district is trending purple.

Miller insisted his commitment to running for re-election has not lessened in spite of this development.

With another vacancy in the Texas House in Fort Bend County, what is at stake for House District 26 constituents?

Next session is a redistricting session, so partisan politics will likely take the front seat to issues of the district, ranging from flood mitigation to sustainably financing public education and lowering the cost of and barriers to health care.

This potential vacancy would be filled by a special election, as early as the constitutional election on November 5.

Currently, the field of candidates for this race include three Democrats: Sarah DeMerchant, who unsuccessfully ran for Miller's District seat in 2016 and 2018, Rishab Oberoi, and geriatric physician Dr. Suleman Lalani; and two Republicans: former Fort Bend County GOP Chair Jacey Jetton and Matthew Morgan.