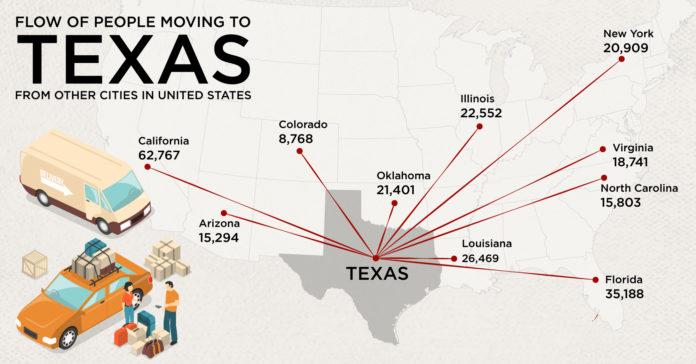 People are not just flocking to Texas for the warmer weather or a plate of juicy brisket. In 2018, the Austin American-Statesman shared "people are moving to the state" for the appeals of economic growth in the culturally diverse" area, in addition to affordable housing, and well-paying jobs within energy, health and technology Texas has long been known for. Although migration may not be politically-driven, here's a glance at how a growing relocation population can affect voting in 2020.
Texas is getting bigger.
Every day, people from other states are making the move to Texas. Just last spring, the U.S. Census Bureau shared population estimates that two of the 10 fastest-growing metro areas in the United states are in Texas.
Texas saw a 1.3 percent increase in population between 2017 and 2018. Esri, a mapping and data analytics company, explains that growth to Texas is coming from transplants deciding on Texas for their next chapter in life for themselves and families, and leaving behind their roots in New York, California, Colorado, Virginia, North Carolina and Arizona. The result has been the growth of the suburbs in Texas' major cities, and new residents from states that historically leaned Democratic.
Millennial movers are diverse and liberal.
State Demographer Dr. Lloyd Potter estimated that between 2010 and 2017, there were 1,019,434 new residents to the state.
Many of these residents are young and mobile, making Texas home to what The Atlantic calls "millennial movers." "The current migration to these suburbs is mostly people in their 20s and 30s, or Millennials, who are more diverse and liberal than the rest of the population," according to William Frey, a demographer at the Brookings Institution.
In an increasingly diverse state, some assume Latino population growth is behind the political "leftward turn" and an uptick in Democratic voters. But Ruy Texeira, a political demographer at the liberal Center for American Progress, suggests that doesn't tell the whole story. In an interview with Bloomberg's Gregory Korte and Joe Carroll, Texeira said, "You can't understand or explain the way Texas has shifted in the last couple of decades without looking at what's going on with the white population."

Texas is ground zero.
In 2018, state elections in Texas were among the most competitive in years, and both parties took note.
In emails mistakenly sent to Texas Democrats in late November of this year, the state-wide Republican strategy for 2020 elections included a note about the party's image as it related to a lack of diversity, which it called, "a narrative driven by Democrats."
In August, U.S. Rep. Randy Weber (R-Pearland), told Politico that the Republican party was aware of what population surges in Texas could mean for the state. "They bring a different set of values, a different set of ideals. We're not unmindful of this…Republicans woke up because they understand what's at stake."
Manny Garcia, executive director of the Texas Democratic Party, said in a statement to the press that, "Texas is the biggest battleground state and Texas Democrats are poised to win in 2020."
In November, state Rep. Michelle Beckley (D-Carrollton) shared with The Dallas Morning News, "The reality is the tide's changing, it's flipping. Everything's been trending Democrat."
Though the state's political future is uncertain, it's unlikely that population growth will stall any time soon. In the words of Brandon Rottinghaus, a political science professor at the University of Houston, "Ironically, the strong economy that Republicans brag about and largely made possible is contributing to the demographic change that is now eroding their influence in Texas."