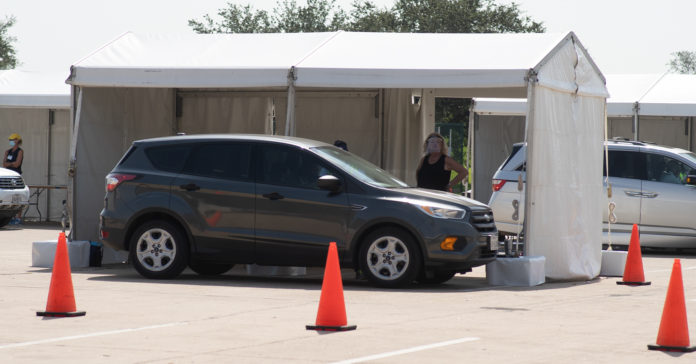 The Texas Supreme Court has ruled that Harris County can continue offering drive-thru voting. The Thursday afternoon ruling denied the last-minute challenge brought by the Republican Party of Texas. 
"Today is a win by Texas voters for Texas voters," stated Texas Democratic Party Chair Gilberto Hinojosa. "Texans will crawl through broken glass to have their voices heard in this election. It was ludicrous in the first place that Republicans don't want Texans to vote and keep on pushing frivolous lawsuits to disenfranchise Texas voters. There is a clear split this election. Democrats want Texans to have their voices heard, Republicans don't. There is no rational reason why Republicans would even try to take away voting capabilities for Texans besides the fact that they are losing and they know they are losing."
The GOP, conservative activist Steve Hotze and Texas Attorney General Ken Paxton had argued that the drive-thru system offered to everyone was an illegal extension of curbside voting, which is reserved only for those who are physically unable to go into a polling location.
Justice John Devine did not side with the rest of the court in refusing the GOP challenge. In writing his dissenting opinion, he stated that he struggles to see how the Texas Election Code "contemplates such a novel concoction" as the tented drive-thru locations Harris County Clerk Chris Hollins is offering this year.
"Hollins stretches the text of the code beyond its historical and common-sense understanding. The Texas Election Code states that polling locations 'may be located in any stationary structure,' including a 'movable structure.' Hollins argues that these 'tents' satisfy the requirements of movable structure. But that interpretation goes beyond the plain language of the statute and cannot be harmonized with other demands of the code," Devine wrote in his dissenting opinion.
Hollins said he had previous consent from Texas Secretary of State Ruth Hughs to use the new system. On Wednesday, he called on Hughs to reaffirm her consent. On Thursday, before the Supreme Court ruled, Harris County Judge Lina Hidalgo asked Gov. Greg Abbott to guarantee the validity of the 70,000-plus votes that have already been cast using drive-thru voting. Neither Abbott nor Hughs responded, which Hinojosa called disgraceful.
The court challenge is the latest in a string of GOP-led efforts to decrease voter accessibility this election season. They have sued to prevent expansion of mail voting to all Texans during the pandemic. In addition, Abbott issued an order limiting each county to just one mail ballot drop-off location, no matter how large the county.