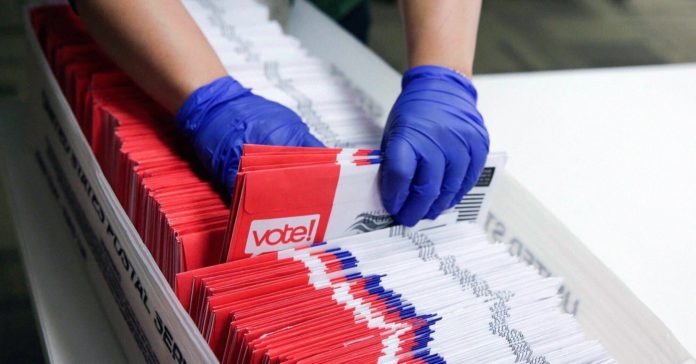 As had been predicted, the all-Republican Texas Supreme Court has put the expansion of vote-by-mail in Texas on hold. The ruling follows yesterday's decision by the 14th Court of Appeals in Houston to allow expansion activity to continue while several legal challenges work their way through the court system.
The decision is a major win for Texas Attorney General Ken Paxton who has been fighting tooth and nail to block voters from being able to use the possibility of contracting the coronavirus as a reason to request an absentee ballot. Paxton asked the state's highest court to intervene after losing two rounds in lower courts.
The supreme court ruling does not bring the legal fight to an end, but it does prevent county election officials around the state from continuing to accept mail ballot applications while the courts iron out the permanent plan forward for the July 14 primary runoffs and November general election.
"The Legislature has carefully limited who may and may not vote by mail," Paxton said in a statement after the ruling. "The Travis County trial court's decision to allow everyone to vote by mail is contrary to state law and will be reversed on appeal."
Under existing Texas law, you must be 65 years or older, disabled, out of the county on election day and during early voting or confined in jail.
The Texas Democratic Party has argued that Texans should be able to claim a lack of immunity to coronavirus as a disability, making them eligible to request a mail ballot.
"This is a dark day for our democracy," said Texas Democratic Party Chair in a prepared statement. "The Republican Texas Supreme Court is wrong to force the people of Texas to choose between their health and their right to vote. They would have Texans die, just so they can hold on to power.

"Voters should have the ability to vote-by-mail during a pandemic if they feel their health is in danger. Every single justice who ruled today should be ashamed of themselves. They are the new Republican death panel.
"We will continue to fight like hell to protect every eligible Texan's right to vote and have their voices heard by their government."
Hinojosa went on to threaten to work to ensure the Texas Supreme Court justices up for election this year are voted out of office.
The court has set Wednesday as the day for oral arguments in the next phase of the dispute.