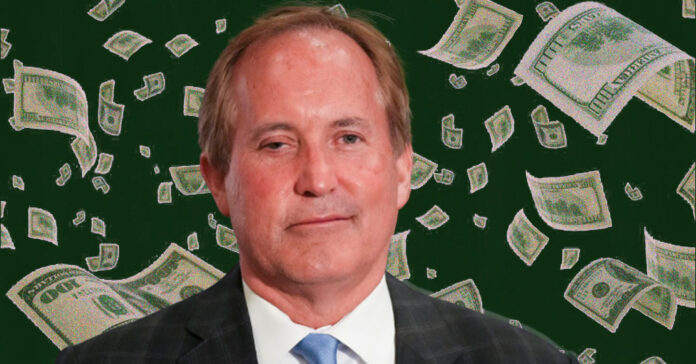 Attorney General Ken Paxton continues to unapologetically drain Texas taxpayers for more than $43,000 in legal defense, as he fights off multiple complaints to the State bar over his failed lawsuit seeking to overturn the 2020 presidential election in the U.S. Supreme Court.

Paxton faces at least 3 complaints for professional misconduct.
Two complainants allege Paxton's December 2020 Supreme Court suit, seeking to overturn the presidential election results, was frivolous, knowingly false, and deceitful.

One was filed in June by a Democratic Party activist, consolidated with a few others, and another in July filed by the nonprofit Lawyers Defending American Democracy and 16 Texas lawyers, including four former presidents of the state Bar, as reported by The Houston Chronicle.

The Lawyers Defending American Democracy complaint is moving forward and will be heard by either a district court judge or an administrative panel, depending on what the Attorney General decides.

The third complaint, filed in February, claims Paxton pressured appellate court judges to rule in his favor on a major case involving election fraud prosecutions.

Paxton, in a statement, declared he was not surprised, saying the Texas State Bar spends all its "time and money on anti-conservative causes," since it is composed of "liberal lawyers and activists strategically drawn from deep-blue Travis County."

He also doesn't seem concerned that his lawyers' billable hours are being paid out of Taxpayer's pockets.

"So I'm fighting back. And I'm authorized to do so by law: The acts that the bar and the liberal complainers are crying about were done in my official capacity as Texas Attorney General, and I may use state resources to defend my and my team's state actions. Period," Paxton said.

Jim Harrington, one of the lawyers who filed a complaint against Paxton and a retired founder of the Texas Civil Rights Project, thinks the whole situation is outrageous. 
"This is about his individual license, which is irrelevant to his position in office, so why shouldn't he pay for it?" said Harrington (the state constitution does not make bar membership a requirement to hold the office).

"He gets to do this game on Jan. 6, this unconstitutional Supreme Court action, and then turn around and have us pay twice for it? It's outrageous."

It also appears Paxton's defense is a little sketchy, both in-house and outside counsel appear to have been engaged and it remains unclear why.

According to The Houston Chronicle, attorneys with the Austin-based Gober Group and College Station-based West, Webb, Allbritton & Gentry billed almost 90 hours at various rates for work related to the bar complaints. However, a response to the June batch of bar complaints against Paxton, was signed by Deputy First Assistant Attorney General Grant Dorfman; none of the outside attorneys' names appear on the filing.

Even though the attorney general's office role in fighting bar complaints may be a legal gray area, the agency is required to defend state officials and state agencies in court.