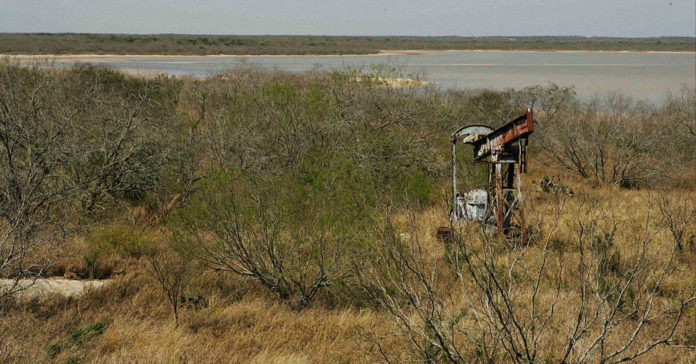 About 783,000 unplugged oil wells across Texas have been abandoned by their owners, according to a new report by Carbon Tracker, a nonprofit think tank researching the impact of climate change on financial markets. That's about 20% of the 3.8 million abandoned wells in the nation. 
The coronavirus pandemic has forced many oil and gas companies into bankruptcy, raising concerns these unplugged wells will sit abandoned even longer.
In Texas, the potential cleanup costs for the orphaned wells is estimated to be $117 billion, a hefty price tag that comes without a source of revenue.
"Texas by far has the highest number of wells of any state in the U.S., and orphan wells are going way up," said Greg Rogers, a special adviser and co-author of the Carbon Tracker report in the Houston Chronicle. "We're seeing a lot of operators go bankrupt, and they can't afford to fulfill their legal obligations to plug in abandoned wells."
Owners are required to clean up their wells. When they don't, taxpayers are left on the hook. Unfortunately, Texas does not have a mechanism for going after former owners to recover cleanup costs, which can run as much as $40,000 per well. Often, the wells sit abandoned indefinitely.
"This system creates a moral hazard," Rogers said to the Chronicle. "The industry is incentivized to delay, pray and walk away. This is a system that's designed to fail."
Like an open wound left unattended, orphaned wells can cause other problems for the environment and the beauty of the Texas landscape. They can emit toxic gases, contaminate groundwater and even explode.
"From 1993 to 2008, so-called orphan wells contaminated groundwater at 30 sites in Texas," Environment Texas Director Luke Metzger wrote in an op-ed earlier this year. "In Scurry County, a well leaked brine into the region's aquifer for 22 years before being discovered. About 150 miles west, near Imperial Texas, brackish water flows from an orphan well to create Boehmer Lake, which contains toxic levels of salt and kills any vegetation it comes into contact with. Unplugged wells also leak methane, a major contributor to global warming."
Texas could protect taxpayers by demanding higher bond rates and forcing companies to plug long-inactive "zombie" wells, which would shift financial responsibility to the industry, Rogers' report suggests.

The Railroad Commission of Texas does administer a program to plug abandoned oil and gas wells that have been a problem for Texas for some time. In 2019, Commissioner Ryan Sitton said the agency was underwater when it came to making progress plugging wells. At the time, Sitton said Texas had about 130,000 orphaned wells, with those numbers continuing to grow.