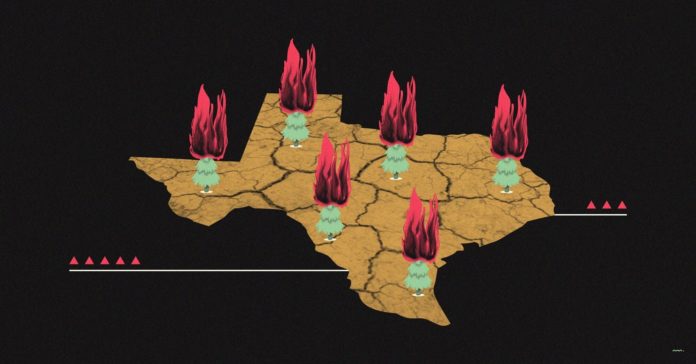 Many parts of Texas are experiencing serious drought conditions that leave them highly vulnerable to the type of devastating wildfires California is dealing with.
Between Jan.1 and Aug. 21, local and state public safety personnel across Texas responded to 3,692 fires that have scorched 184,774 acres.
On Aug. 20, Gov. Greg Abbott issued a state of disaster proclamation for 32 West Texas and Panhandle counties that are experiencing severe and extreme drought conditions. The counties are Andrews, Brewster, Briscoe, Castro, Collingsworth, Crockett, Culberson, Dimmit, Deaf Smith, Floyd, Gaines, Gray, Hale, Hall, Jeff Davis, Kinney, Lamb, Loving, Maverick, Motley, Parmer, Presidio, Randall, Reeves, Roberts, Swisher, Terry, Uvalde, Val Verde, Wheeler, Yoakum and Zavala.
A disaster declaration permits local officials to utilize emergency powers to alleviate and control dangerous situations, e.g., ordering the evacuation of unsafe areas and requesting federal funds.
Conditions
Continuous oppressive temperatures this summer have created conditions akin to 2011, when much of the state was ablaze.
"Our greatest potential for fire occurrence right now is generally along and west of I-35," said Luke Kanclerz, a fire analyst with the Texas A&M Forest Service. "We've got underlying drought that's been building since late spring and through the summer."
As a result, the fire fuel or vegetation contains much less moisture than it normally would, rendering it more susceptible to burning, he said.
This year, far west Texas and the Trans-Pecos region have not received the annual monsoon rains that generally occur in the Southwest and drift east.
"But we haven't seen that rainfall that we normally do and so we've got drought that's just continued to persist and build in that area," Kanclez said. "And that drought has extended farther east — from like Austin up to Waco just west of Fort Worth — and that kind of puts the fire season into overdrive."
Above normal air temperatures over the southwest and below-average snowfall in the Rocky Mountains helped produce the drought situation in the western U.S., said Ned Vizy, a research scientist associate in the department of geological sciences at the University of Texas at Austin, in an email.
He said high pressure over the eastern North Pacific has affected the North American Monsoon season as high pressure continues to sit firmly over the Southwest this summer, "resulting in the dry and excessively warm conditions that we have experienced."
Nearly 25% of the state is under severe, extreme, or exceptional drought conditions according to the Department of Agriculture's online drought portal. 
The USDA drought portal indicates Presidio County, which lies in the Chihuahuan Desert, is the driest place in Texas. Portions of the county are at an exceptional drought level which is categorized as the most acute stage.
"You know, we're kind of used to it but it's to the point now … well, it's just bad," said Gary Mitschke, emergency management coordinator for Presidio County and the Marfa fire chief.
He said conditions are similar to 2011, when the state was hit with a torrent of destructive wildfires.
"It hasn't been real active, but we're at conditions now where all of our ground fuels out here are extremely dry, and anything that does start is going to burn really actively, and if it's pushed by the winds which we have out here a lot — which is our biggest enemy with wildfires — it could be pretty severe," Mitschke said. "As a firefighter, I'm kind of on edge because of that."
Rain?
Even with brief periods of moderate rainfall in drought conditions, vegetation will dry out quickly and again become flammable, Kanclerz said. There's only one way out of a parched landscape and fire menace. Rain. Lots of it.
"And the wild card is tropical activity," Kanclerz said "Tropical storms and hurricanes. If we have a big influx of rainfall from a tropical storm in the state, that can kind of be a double-edged sword. We have to worry about the hurricane and the impacts from that … but it can also be a season-ending event for areas that are dry."
It doesn't appear that Hurricane Laura provided enough rainfall to help with drought conditions.
"Moving forward for the fall and winter, La Niña conditions appear to be developing in the equatorial Pacific, which, unfortunately, is not great news for us in Texas, as they tend to be associated with warmer and drier conditions over the southern U.S., including Texas," Vizy wrote. "Thus, the drought-like conditions may continue into next year.
He said climate change has a role in the present drought but the extent of it is too complex to ascertain.
In the meantime, the drought carries on.
"To get out of a prolonged fire season, we just need either a long duration rainfall event with good coverage, or we need an increased frequency of rainfall … increase our fuel moisture, help green up grasses and create barriers to fires from occurring," Kanclerz said.