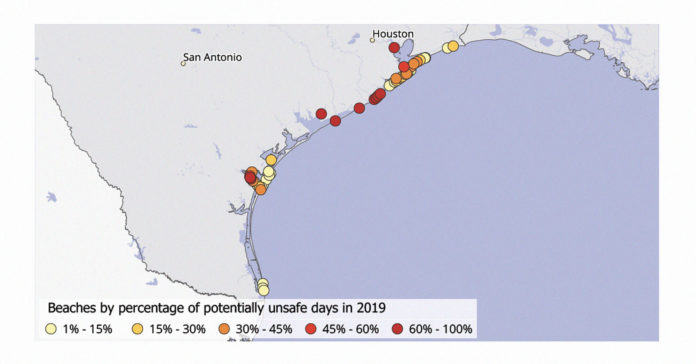 A report released by Environment Texas finds that water pollution at Texas beaches is putting people's health at risk. In 2019, bacteria levels at 55 Texas beaches indicated that water was potentially unsafe for swimming on at least one day, according to the Environment Texas Research and Policy Center's report "Safe for Swimming?"
"No one should be nervous that cooling off in the water on a hot summer day could make them sick," said Anna Farrell-Sherman, Clean Water Associate with Environment Texas Research and Policy Center. "Fecal bacterial pollution does not belong on our beaches: We can and must do a better job of keeping waste out of our water."
To assess beach safety, the group examined whether fecal indicator bacteria levels exceeded the U.S. Environmental Protection Agency's most protective "Beach Action Value," which is associated with an estimated illness rate of 32 out of every 1,000 swimmers. Last year, Sylvan Beach Park along Galveston Bay in Harris County had bacteria levels above this safety threshold on 99% percent of days tested.
Polluted runoff from roads and parking lots, overflowing or failing sewer systems, and farms are common sources of contamination that can put swimmers' health at risk and lead authorities to close beaches or issue health advisories. Scientists estimate that 57 million instances of people getting sick each year are from contact with polluted waters in the U.S.
Other Texas beaches found potentially unsafe for swimming on more than two thirds of testing days in 2019 were Sargent Beach, Palacios Pavilion, Jetty Park, Surfside, Follets Island, Quintana, Cole Park, Bryan Beach, and Ropes Park.
"Recreational users enjoying beaches that are part of urban watersheds need to be attentive to rain events," said Dr. Philippe Tissot with Texas A&M University at Corpus Christi. "While water quality can be generally good, it is recommended to wait 48 up to 72 hours prior to enjoying the nearshore waters after a rain event."
Environment Texas recommends major investments to prevent sewage overflows and runoff pollution, in addition to policies that promote nature-based infrastructure like rain gardens and green roofs that can help capture and filter stormwater before it enters our waterways. In the coming weeks, the U.S. House of Representatives is expected to vote on $11 billion in emergency water infrastructure funding that could help prevent this pollution.