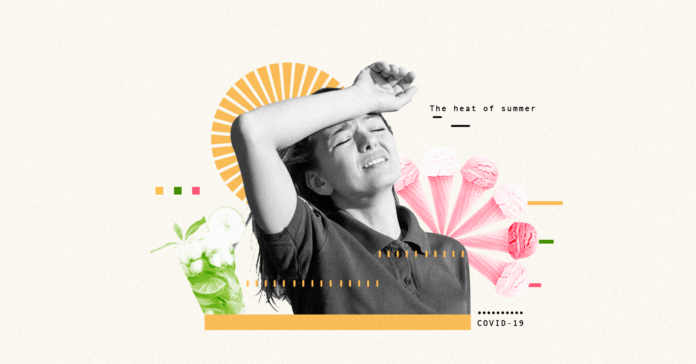 In normal times, we might have gone to air-conditioned theatres, crowded tourist attractions or other fun places to cool off, but because of the pandemic, we need other ideas. Here are ways to stay cool and comfortable this summer.
Eat and Drink
Foods such as cucumbers, apples, peaches, leafy greens, lemons and other citrus fruits can help lower your body temperature, according to Chinese medicine. Those foods also provide nutrients. Everyone likes frozen treats, but spicy foods can also help you cool off. 
Our bodies are 60% water, and adults need 2 to 3 liters of water a day to avoid dehydration. Consider foods and drinks that are high in electrolytes, such as coconut water, bananas, kale and spinach, which are also cooling.
Staying Cool Inside
To lower your home's temperature, consider cooking earlier in the day.
If you are feeling hot, take a cold shower, use cold washrags or compresses on your skin.
Keep the blinds closed to prevent direct sunshine from coming in and warming your home. 
Use a ceiling fan to circulate the air.
Staying Cool Outside
Avoid going out during the warmer times of the day — between 1 and 5 p.m., for starters.
Here are some cool places to visit in Texas.
Visit the Pedernales River, 30 miles west of Austin, which is known for bird watching and riding horses. You can swim or wade in the water and have plenty of room to social distance. 
While capacities may be limited, you can go on a cool, no pun intended, geological cave tour in Central Texas. Some suggestions are Wonder World Cave, Natural Bridge Caverns, Inner Space Cavern and Cascade Canverns.
Try a shady hike at Chalk Ridge Falls Park Trail, or fish and see the waterfalls. It's between Austin and Waco.
In North Texas, there's Lewisville Lake, which has a beachy shoreline but it is known to be crowded. You may want to try another lake such as Lake Grapevine and the surrounding parks, which may have fewer people.
Of course, there is Galveston and visiting Moody Gardens (with social distancing) and the other beaches of Texas.
Families may enjoy taking a stroll along the Kemah Boardwalk and getting some ice cream.
Also, you can get a battery-powered mini-fan to carry with you.
As always, take heat advisories seriously. Here are more tips on staying healthy and safe this summer.