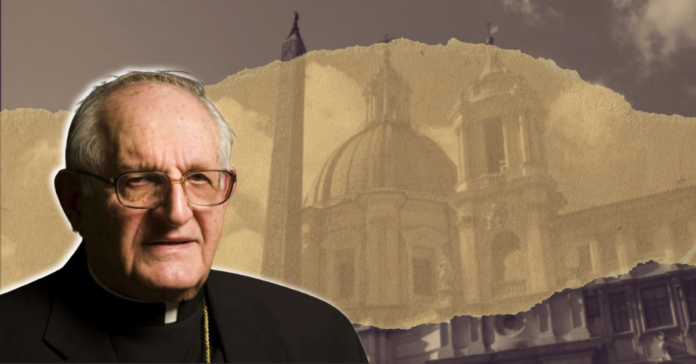 Longtime bishop of the Galveston-Houston Archdiocese, Joseph A. Fiorenza was laid to rest Thursday in Houston, with hundreds of clergy from across the nation in attendance. He served as bishop, archbishop and archbishop emeritus for the diocese. He was a longtime crusader for civil rights and social justice. His funeral mass, which was held at Co-Cathedral of the Sacred Heart in downtown, was the last of three full days of events to memorialize the 91 year old.
As a young priest he marched with Martin Luther King Jr. in 1965 in Selma. He was also one of the so-called "Three Amigos," and along with Rabbi Samuel Karff, and Reverend William Lawson, together they helped to desegregate Houston, advocate for the poor, and form Interfaith Ministries for Greater Houston.
The three were dedicated to a life of service, and became close friends throughout their lives, working together on nearly innumerable efforts to serve the Greater Houston community. The trio met during a coalition meeting of "Ministers of Houston," a group that sought to unite Houston's diverse faith leaders and communities.
As an example of his impact, Fiorenza, Reverend William Lawson, and Rabbi Karff came together to unite faiths in a response to a severe economic downturn in the 1980's, which saw the local residents lose jobs and what was the beginning of homelessness in the city.
In 1982 the "Amigos" presented then Mayor Kathy Whitmire a plan they called the "Campaign for the Homeless."
Along with local clergymen including Fiorenza, business, government and nonprofits came together to seek solutions for serving those in need. The end result was the forming of the Coalition for the Homeless.
And their collective efforts also led to the creation of public defenders in Harris County, established in 2011. More recently, the three worked to help bring about bail reform, out of "our shared morals and sense of social justice," an editorial they co-authored in 2016.
Ultimately the county began to implement reform in 2019 to protect impoverished citizens from being held throughout the pretrial period simply because that lacked the financial wherewithal to post bond.
Fiorenza was also an advocate for the care of incoming immigrants, and for an increased attention of jail conditions, low income residents and poor children.
His nephew, Mark Fiorenza of Port Neches, Texas was a representative of the family in the week-long celebration of the bishop's life and work.
Mark said "it was just incredible, the number of people who approached me and my wife Lisa and told us things that my uncle did for them, and they were so grateful to him and saddened by his passing, some of them things I didn't even know he did for others. Because it was never about him, it was all about helping others."
"He always looked out for the common man. So many people came up to me and told me that when they had lost their jobs and had nowhere else to turn, they got help from my uncle. He didn't care what your situation was, what economic status you had, he tried to help anyone who needed it," he said.
"An order of nuns from Nigeria told us that they had been persecuted by forces in their home country, and somehow my uncle got word about it and somehow he got them out of the country and flown safely to America," he continued.
At one of the events honoring the late bishop some of the nuns approached Mark and Lisa and told them the story of how in the 1970's they were being persecuted by the North Vietnamese communist rulers and were in grave danger. They were rescued and flown to the U.S. with the help of Fiorenza, and were given shelter here in the Greater Houston area, and he helped them get work as well.
"When I was at the hospital with my uncle before he passed, the Vietnamese nuns were there and they were singing hymns to him and weeping, even though by that point he couldn't respond to them. But it was amazing to see the passion with which they mourned him," he said.
He added that a son of a local philanthropist approached him and told him that the bishop was very persuasive, and used that skill to help fund many charitable efforts, and that his dad always came to his aid, because he said he knew that if the bishop was asking for help it was important.
"We received so many awards in his honor including plaques, flags and proclamations from the City of Houston, HPD, and the U.S. Congress. Sheila Jackson Lee presented us with an American flag in his honor that would fly in the U.S. Capitol," his wife Lisa added.
"Representative Lee pulled me aside and told me a funny story about how my uncle would talk to her when she became upset by her passion for the things she cared about, and she said he would calm me down and help me regain my perspective," he added.
During the heated summer protests in the wake of George Floyds killing by police in 2020 the bishop pulled together local religious, non profit and city organizations to insure that the violence seen in other U.S. cities would not happen here, preaching a message of love, peace and hope, he said. "My uncle knew how to bring people together and negotiate to get co-operation."
Cardinal Daniel DiNardo, who succeeded Fioreza as archbishop of the dioceses, said that not only was he an champion of social causes including overcoming the ongoing public strife and legacy of racism. He encouraged the Church to be an active voice against racism.
He was also "known as a great promoter of genuine renewal in the Church, and in making the teachings of the Second Vatican Council known," DiNardo said. He also worked to serve those of Catholic faith, but also others of other denominations or no spiritual traditions at all.
In addition to that, Fiorenza was also active in opposing the death penalty. On June 11, 2001, he expressed his regret at the execution of Timothy McVeigh, who was convicted in the Oklahoma City bombing in 1995 that killed 168.
In a statement he said "in an age where respect for life is threatened in so many ways, we believe it is important to emphasize that human life is a gift from God, and no one or any government should presume to kill God's gift."
He served as bishop of the diocese from 1985 to 2006 before being required by the church to retire at age 75 in 2006, But he refused to give up his life's work, and still worked daily, assisting with weekend mass, and continuing to serve the parish and the greater Houston area community. He had been living in the Archbishop Joseph Fiorenza Priest Retirement Residence, named for the bishop, until his death on Sept. 19th.
Fiorenza was born in Beaumont in 1931 as the second of four sons of Sicilian immigrants, but he was said to be a "true Texan through and through." Early in his life he showed a tireless work effort and dedication to serving others, which he continued throughout his life. He graduated from St. Anthony High School in 1947, the same year he began studying for the priesthood.
His selflessness and tireless work on behalf of others resulted in multiple honors. In 1999, Bishop Joseph Fiorenza Park was dedicated at Westpark Tollway and Eldridge Parkway, and the Queen of Peace named its community center after the archbishop.
The archdiocese created and operates the Archbishop Joseph A. Fiorenza Priest Retirement Residence Fund. He had been living in retirement at the Archbishop Joseph Fiorenza Priest Retirement Residence, also named in his honor.
Additionally, "the three amigos, also known as the "three wise men," were memorialized in "Pillars of Light" in Brigitte and Bashar Kalai Plaza of Respect at the Interfaith Ministries of Greater Houston headquarters in Midtown, located at 3303 Main St.
In addition to his work as a clergyman, he served on the board of trustees of the Catholic Near East Welfare Association, the Catholic Relief Services, the University of St. Thomas, Houston, as well as the Catholic University of America in Washington, D.C.
He was also a member of the Bishops' Committees for Black Catholics, Science and Human Values, Foreign Missions, and Social Development and World Peace.