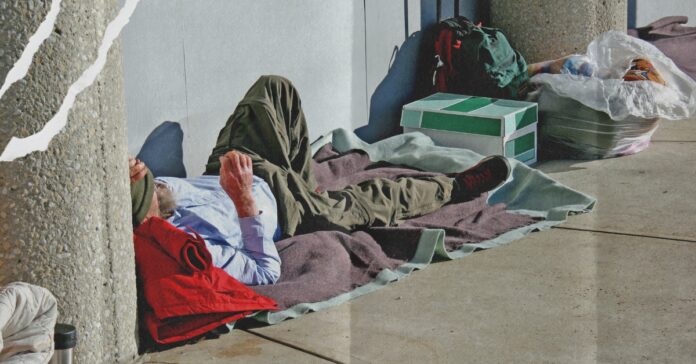 Houston's homeless response outreach teams are tackling one of the city's biggest problems collaboratively and strategically. Houston's approach to combating homelessness can serve as a guide for other cities seeking to address their growing homeless population and give them the support they need.
In an opinion piece for CNN, Marc Eichenbaum, special assistant for Houston Mayor Sylvester Turner's homeless initiatives and Coalition for the Homeless of Houston/Harris County's CEO and president, Michael Nichols, wrote about Houston's homelessness outreach programs.
Eichenbaum serves on the Leadership Council for the National Alliance to End Homelessness and has advised over 70 cities on how to create systems to reduce homelessness. Nichols has been an active participant in business and civic activities in Houston for more than three decades.
In 2011, the Houston area had one of the highest homelessness rates in the country. The threat of homelessness was only increasing and there was concern over decades of substantial investments without results. Houston had to take action.
In 2012, Houston and surrounding communities came together in a unified, regional, homeless response system called The Way Home. The Coalition for the Homeless of Houston/Harris County served as the lead agency to The Way Home.
Since 2011, the region has seen a 61% decrease in homelessness.
Since 2012, more than 25,000 people who have experienced homelessness in the region have been housed with a 90% success rate.
Since 2020, the last count conducted prior to the pandemic, the region has seen an 18% decrease in homelessness. According to the 2023 Point-in-Time Homeless Count & Survey by the Coalition for the Homeless of Houston/Harris County, a total of 3,270 people are experiencing homelessness in Harris, Fort Bend, and Montgomery counties.
To get to this point, there were "three crucial decisions" made.
First, a collaborative system, aligned by a standard set of goals, processes and strategies, was created. Instead of individual organizations and government entities, each trying to attack the problem. Today, more than 100 entities are collaborating to help decrease homelessness in the greater Houston area.
"Our collaboration includes using a centralized database to capture information and track the service needs of people experiencing homelessness and using a standardized assessment to determine which housing and/or service interventions best suit each household," Eichenbaum and Nichols wrote for CNN.
Second, implementation of programs that are all based on a Housing First approach. The strategy is focused on getting individuals and families into permanent housing before helping them address any other problems. This is done through voluntary wraparound support services, such as mental health or substance abuse counseling, health care, job training, etc. Housing makes the services effective and the services help keep the person housed.
Third, the most vulnerable people are housed first. The general assumption when the average person sees someone struggling with mental illness and homelessness, is that the person is dangerous or needs to be hospitalized. However, most folks who struggle at the interaction of homelessness and mental illness stabilize with the appropriate level of services.
Rapid and unexpected financial losses are a leading cause of homelessness – these financial woes needn't result in catastrophe if we had the right policies in place.
In addition to that, experiencing homelessness often worsens mental health deterioration and the need to self-medicate. "In other words, mental illness is not the driver of homelessness in most cases."
HOUSING RESPONSE
There are three components to the homeless response system in Houston and surrounding regions.
First, they provide a home (mostly apartments) with a key, a lease in the person's name and all additional documents to stay in that until for the long haul. Second, the organization provides them with a subsidy for the rent. A person may contribute 30% of their income, depending on the program. Lastly, they secure support services to help individuals move forward psychologically, emotionally and financially.
The success of these programs is intertwined with the collaborative approach of the organization. Together the city of Houston, Harris County, public housing authorities, major philanthropic foundations, faith groups, the private sector and more than 100 nonprofit agencies, help combat homelessness.
The collaboration between the organizations proved to be instrumental at the start of the Covid-19 pandemic. The city of Houston and Harris County strategically invested federal pandemic aid, alongside donations from philanthropic efforts, allowing the organization to house, or offer homelessness diversion services to, more than 12,000 people.
Through supportive housing, Houston has holistically decommissioned dozens of encampments – sites where unhoused people set up groups of tents- by placing close to 400 people on the path to housing.
"We are doing this difficult work not just because it is the moral thing to do, but also because it is the fiscally responsible thing to do," Eichenbaum and Nichols wrote for CNN.
It would cost approximately $18,000 per year, according to the estimate provided by Eichenbaum and Nichols in the article, to house and provide services to an individual. According to a few studies it can cost taxpayers as much as $30,000 to $50,000 per year, to leave a person chronically homeless.
Turner and other county leaders have said we cannot become complacent and accept the streets as an eventual destination for our most vulnerable folks. To help stabilize and house our most challenged individuals suffering from chronic and acute behavioral health issues, a diverse group of cross-system leaders, regularly meet to strategically develop, coordinate and implement tailored and client-based interventions.
While Houston has not eradicated homelessness by investing in proven, effective intervention, and housing "we are making homelessness rare, brief and nonrecurring for people."
Despite ongoing challenges, persistence, innovation and collaboration helped Houston address its homelessness problem.
"Just as Houston learned effective strategies for addressing homelessness from other cities like Denver and Salt Lake City when we were creating The Way Home, other cities can learn from Houston. We are stronger when cities and counties across the nation unite and work together on the pressing challenges ahead," Eichenbaum and Nichols wrote.