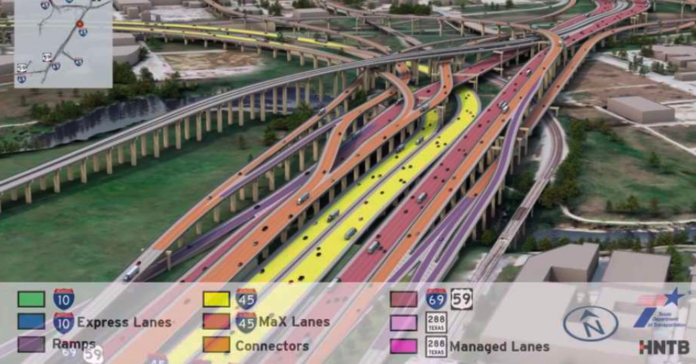 The early stages of the pandemic brought some welcome relief from traffic congestion in major cities throughout the nation. But as the economy awakens and additional health-order restrictions are relaxed, the logjams and bottlenecks of vehicles along highways and freeways have resumed.
This return to traffic woes includes Texas. The state contains some of the largest metro regions in the country. In Houston, the voluminous amount of vehicles on the road has given rise to environmental and safety concerns. A plan to alleviate traffic problems in the city has been in development for some time.
The ambitious North Houston Highway Improvement Project is a three-segment Texas Department of Transportation plan that seeks to untangle the traffic congestion as the population expands in America's fourth-largest city.
TXDOT, in conjunction with the Federal Highway Administration, commenced a National Environmental Policy Act process for the Interstate 45 expansion in the north Houston area. I-45 basically runs north to south and traverses right through downtown.
An environmental impact statement process was initiated and comprised of input from the public, elected officials, governmental agencies and other stakeholders, according to TxDOT. The release of a final environmental impact statement is imminent, the public will have the opportunity to review it for 30 days, and groundbreaking could occur within a few years.
"This project — which still needs some additional funding — could begin construction in 2022," wrote Danny Perez, a public information officer at the TxDOT-Houston District, in an email to Reform Austin.
But the plan isn't without its critics.
Downsides
"The community has pushed back on this project as unnecessary and a waste of taxpayer money," said Stephanie Thomas, an area organizer and researcher at Public Citizen Texas, a nonprofit consumer advocacy group serving the public's interest, in an email. "While there are certain areas of the freeway that could use improvements, the project as a whole does not support the needs of the community."
Thomas said the NHHIP greatly expands the footprint of I-45 and will disrupt a multitude of communities close to the project's geographical parameters.
"When these freeways were first constructed, they were often placed within communities of color, dividing communities and exposing them to the lion's share of the pollution from emissions," she said.
The project will impact "158 houses, 433 apartments or condos, 486 public housing units, 340 businesses, five churches and two schools" with a minimal cost of $7 billion, the Houston Chronicle reported in June.
The Health Impact Assessment of the North Houston Highway Improvement Project conducted by Air Alliance Houston, an air quality advocacy organization, concluded that the expansion design would increase the highway by 70 percent in some areas. Moreover, it would add multiple lanes and shift approximately 26 existing school and daycare campuses to within 500 feet of the highway consequently escalating traffic volume and pushing more air pollutants into nearby areas, the assessment said.
Houston currently has the highest measure of vehicle-miles traveled in the state, said Harrison Humphreys, a transportation policy advocate at Air Alliance Houston.
"The project calls for doubling the right-of-way in some areas … a 100 percent increase in potential vehicle-miles traveled," he said. "And what we need for reducing greenhouse gas emissions to prevent catastrophic climate crises is the exact opposite."
Humphreys led the transportation working group in drafting the city of Houston's climate action plan, which includes vehicle emissions. The CAP, which aims to set Houston on a course toward carbon neutrality, indicated that 94 percent of passenger trips in Houston are taken in vehicles and nearly 80 percent of on-road emissions originated from cars and light-duty trucks in 2014.
The plan's targeted goals are a 20 percent reduction in vehicle-miles traveled per capita by 2050, 500 miles of bike lanes and no traffic-related fatalities or serious injuries on city streets by 2030.
TxDOT insists it is considering environmental concerns.
"We certainly continue to work to address concerns from the community," Perez wrote.
Flooding is another issue that has people worried. The right-of-way presence in some areas of the NHHIP is projected to be widened by 70%, and the project corridor "runs parallels or intersects with flood-vulnerable bayous and streams," according to the Air Alliance's health impact assessment.
A design feature of the NHHIP is the construction of below-grade lanes running underneath several local roadways. TxDOT said the plans also call for additional detention ponds and pumping systems to attenuate flooding.
Thomas isn't convinced that the project and all of its materials are a viable solution.
"That amount of concrete will also likely contribute to urban heat island impacts and flooding," he said. "The last thing we need is a below-grade highway that prevents people from evacuating from intense storms and hurricanes."
Vision C
Public acceptance of the NHHIP has varied throughout the process, Humphreys said.
"There's always been some slight opposition to this project but it really, really picked up last year in 2019," Humphreys said. "To the point where … Mayor Sylvester Turner and the city of Houston hired an outside firm to try to conduct a community engagement process to address the swell of opposition."
Turner asked the city's planning and development department to draw feedback from the community, which culminated in nine public meetings, hosted in conjunction with the firm and the University of Houston, and the reading of more than 1,100 written comments regarding the project.
"And what that resulted in was a yearlong process … where they received input on just general values on what Houstonians want out of their transportation system but also on specifics for the project itself … what came out of it was kind of colloquially known as 'Vision C,'" Humphreys said. "It was a third alternative that they came up with which calls for … a drastic re-imagining of the project."
He said that plan is much more pedestrian and environmentally friendly, but TxDOT was lukewarm to it.
TxDOT has committed to some level of a redesign, but the agency hasn't clearly defined what it will acquiesce to, Humphreys said. So the question of how much TxDOT is willing to change on its design and how hard Turner and the city of Houston are inclined to fight for the people who contributed to the redesign options still looms, he added.