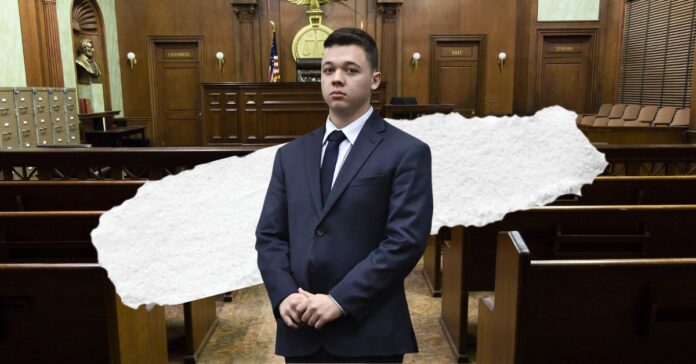 Kyle Rittenhouse, who was acquitted of murder after killing a Black Lives Matter protester in 2020, has started a political advocacy group with the help of some of Texas's biggest far-right megadonors.
It's called the Rittenhouse Foundation. The 20-year-old said in a July 23 filing with the Secretary of State that it would "protect human and civil rights secured by law, including an individual's inalienable right to bear arms" and "ensures the Second Amendment is preserved through education and legal assistance."
Rittenhouse became a conservative darling after killing Joseph Rosenbaum and Anthony Huber during a protest. He was acquitted thanks to Wisconsin's Stand Your Ground Law, where someone only has to claim they felt threatened before retaliating. Rittenhouse carried an AR-15 into the protest.
Since his acquittal, Rittenhouse has made his home in Conroe, just outside of Houston. His foundation puts him in league with some of the wealthiest and most extreme conservative operatives in the state.
According to his filing, the directors of the foundation will be longtime gun access absolutist Chris McNutt, the president of Texas Gun Rights, and Shelby Griesinger, treasurer for Defend Texas Liberty PAC.
Defend Texas Liberty is largely funded by the Christian nationalist oil and gas tycoons Tim Dunn and Farris Wilks. The two energy moguls have funded much of the rightward shift Texas has taken politically in the past several years. With their money's help, gun access has been widened considerably in the state while regulation has been severely curtailed. All this despite mass shootings rising 62.5 percent following McButt's pet project, permitless carry, becoming law.
Rittenhouse has been the subject of controversy since he moved to the state. He appeared at a rally with the Texas Nationalist Movement in January. The TNM advocates cessation from the United States, and has also been known to engage in white supremacist rhetoric, such as referring to migrants as invaders.
It's easy to understand why the biggest movers and shakers in the far-right would be interested in Rittenhouse. He serves as a symbol of resistance to racial justice. In February, attendees were paying $500 for VIP tickets to have facetime with Rittenhouse. Donald Trump himself has praised Rittenhouse. His fame has only grown since he killed two men at a protest over racist murders of Black men by police.
Rittenhouse has also been effective. He lent his voice in opposition to a bill this year that would have raised the minimum gun buying age to 21, and that bill subsequently failed. If such a law had been in place in Kenosha Wisconsin in 2020, Rittenhouse's victims would likely still be alive. Despite testimony from state and federal law enforcement representatives on how many people could be saved by raising the age, the bill was handily defeated.
As Rittenhouse is drawn further and further into the world of big money conservative extremists in Texas, he's only likely to get more popular. It might not be too far in the future when we're talking about his as a candidate for office. 

To learn more about gun violence in Texas, visit the RA News Gun Violence Watch page.