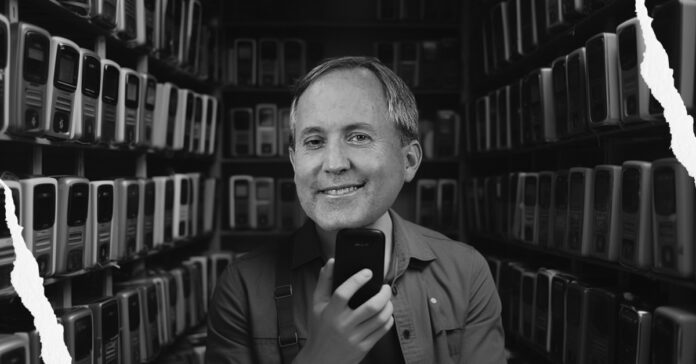 Fresh details have surfaced surrounding the scandal embroiling Texas Attorney General Ken Paxton. These new revelations, contained within documents submitted by House impeachment managers, shed light on a purported web of misconduct involving Paxton and developer Nate Paul.

The documents unveil how Paxton allegedly employed a secret personal email address and burner phones while granting Paul "unfettered access" to the Texas Attorney General's office. This access, it's claimed, was then utilized by Paul to launch targeted harassment campaigns against his perceived adversaries, as reported by The Dallas Morning News.
Central to the allegations is the assertion that Paxton wielded his authority to aid Paul in evading a federal investigation into his business activities.

In the documents, it's revealed that Paxton's attempts to obfuscate his actions included establishing a clandestine personal email account and using untraceable burner phones.

"Uber records reflect drivers picked up Paxton under the alias of 'Dave P' a block from his home and ferried him to his lover's or Paul's properties more than a dozen times from August 6, 2020, until October 2, 2020," the House managers wrote.
This intricate tale of alleged misconduct isn't limited to Paxton's personal affairs. The documents also uncover Paxton's purported misuse of his position to bolster Paul's interests. House impeachment managers argue that Paxton interceded to obstruct a federal investigation targeting Paul and his real estate endeavors. Paxton's alleged interference, they assert, also extended to crafting tailored legal opinions intended to thwart foreclosure sales of properties belonging to Paul.
Paul was indicted for federal financial crimes in June but denies all wrongdoing. According to the Austin American-Statesman, a federal grand jury reportedly looks into Paxton's ties to Paul.

The House managers' filings illuminate the multifaceted case they intend to present during Paxton's upcoming impeachment trial, scheduled for September 5.
Paxton did not respond to a message from The Dallas Morning News seeking comment at the time of this publication.

On the other hand, Paxton's defense has sought to discredit the corruption charges, contending that the 20 articles of impeachment are vague and misconstrue state laws. They also argue that even if the allegations hold true, they do not amount to impeachable offenses.
"This whole thing has been nothing but a sham, and it should now end," Buzbee said, on X, formerly Twitter.

As the proceedings unfold, these documents offer a tantalizing glimpse into the intricate web of allegations surrounding Paxton's conduct, particularly his alleged involvement in orchestrating a fake Uber account as part of a broader narrative of abuse of power and impropriety.

Reminder: Paxton is the first statewide elected official in Texas to face an impeachment trial since 1917.