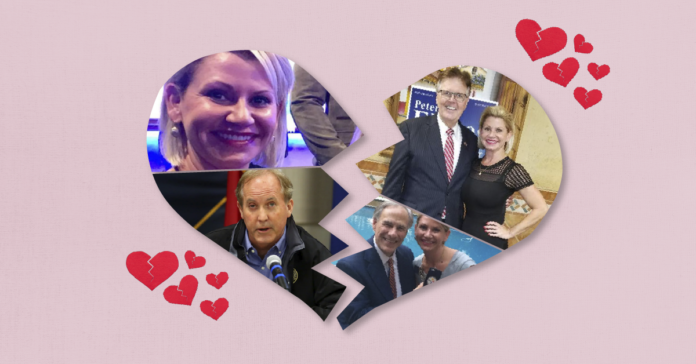 Several sources have informed RA News that Laura Olson, the girlfriend of former San Antonio Councilman Clayton Perry, is well known in political circles as the woman who had an extramarital affair with state Attorney General Ken Paxton.
The affair between Olson and Paxton has been an open secret for years. Still, it gained broader attention during an investigation into illegal quid pro quo and corruption allegations against Paxton, leading to his impeachment.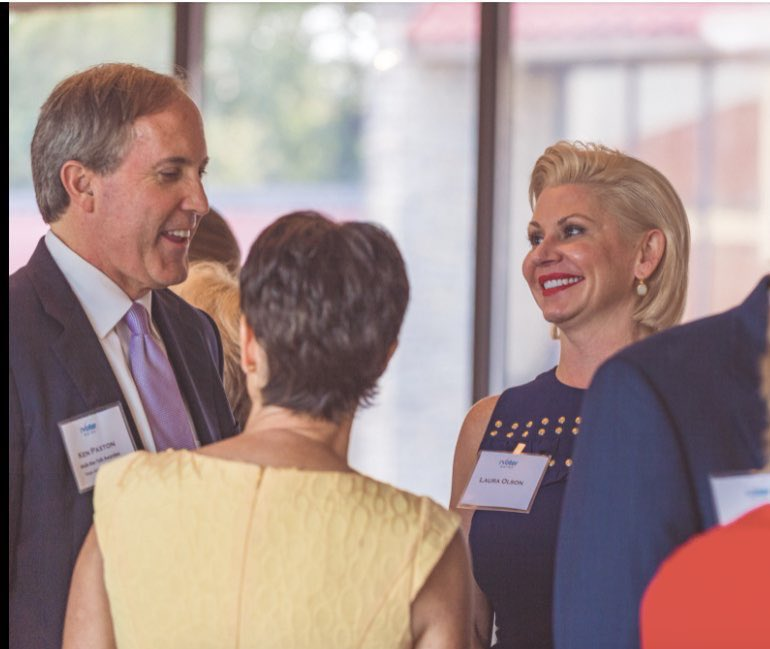 Texas lawmakers disclosed the affair on the day of the impeachment vote, revealing that Paxton had cheated on his wife and professed love for Olson in 2019. Olson has been involved in politics as a member of the Bexar County Republican Women and has been seen in photos with Texas Governor Greg Abbott and Lieutenant Governor Dan Patrick.

Olson, a four-times-divorced mother of two, has been in an on-and-off relationship with Perry since 2019. She supported Perry after his arrest for the alleged hit-and-run in November.
Paxton, who has been married since 1986, has been suspended from his official duties and faces a criminal investigation by the FBI and the Justice Department. The affair is considered significant as it impacts Paxton's political image and risks alienating his base of supporters who value family values and Christianity.
The exact timeline of Olson's relationship with Paxton is unclear, but lawmakers stated that he was involved with his mistress in 2019. The affair became central to the investigation into illegal quid pro quo. Nate Paul, a political donor to Paxton, allegedly offered Olson a job at his real estate company in Austin in exchange for help from the attorney general. Paxton also facilitated Paul's access to FBI documents after his properties were raided. Olson's role at World Class Holdings, Paul's real estate company, remains unclear.
In November 2020, Olson filed legal paperwork to prevent her deposition in a lawsuit. The lawsuit involved Paxton's former deputies accusing him of bribery and abusing his office to assist Paul. The whistleblowers sought information from Olson, but a judge quashed the requests. Paxton settled with the whistleblowers for $3.3 million of taxpayer funds, which triggered an investigation by the House and ultimately led to Paxton's impeachment.
Olson previously worked for Texas Senator Donna Campbell from 2013 to 2020 and has liked a tweet from Campbell regarding her role as a juror in Paxton's upcoming trial. Olson follows Paxton and the Attorney General's Office on Twitter, as well as Monica Lewinsky, former mistress of Bill Clinton.
Paxton's wife, Senator Angela Paxton, has not indicated whether she will recuse herself from the vote against her unfaithful spouse. In April, Perry pleaded no contest to charges related to his drunken hit-and-run incident and left office when his term ended.

When asked if the revelations about Miss Olson were interesting – Rusty Hardin one of the main impeachment lawyers said in an email "Calling it interesting is like calling the Grand Canyon a ditch!"

However, Hardin said it was still too early to decide who they will be calling as witnesses at the trial.