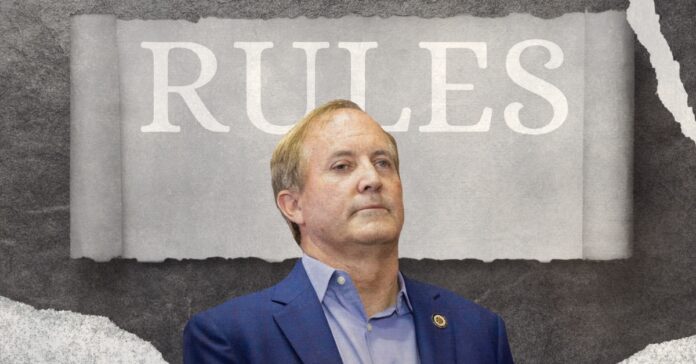 On Wednesday, the Texas Senate voted on a resolution laying out the rules, which were adopted on a 25-3 vote without a discussion.

The three votes in opposition were by Sens. Sarah Eckhardt, D-Austin; Bob Hall, R-Edgewood; and Angela Paxton, R-McKinney, who is Ken Paxton's wife.
Attorney General Ken Paxton's trial will begin Sept. 5, a separate resolution, adopted 28-0, requires Paxton to appear in person in the Senate chamber "to answer the said charges of impeachment."

Despite Sen. Angela Paxton's refusal to recuse herself, rule 31 – out of 31 rules passed by the Senate- states that "a member of the court who is the spouse of a party to the court of impeachment is considered to have a conflict," which means Sen. Angela will not be allowed to vote on any matter, however, she will be allowed to be seated in the court of impeachment during the procedure.

Her inability to vote doesn't prevent the two-thirds majority vote number to go down from 21 to 20.

Other quick points from the impeachment rules are that pre-trial motions will be due by August 5, responses are due August 15 and witness lists (which won't be available for the public) will be due August 22.

Following a decisive vote by the Texas House on May 27, Paxton, a three-term Republican, was suspended without pay. The House approved 20 articles of impeachment, accusing Paxton of accepting bribes and abusing his office's power.

The articles have a significant focus on Paxton's association with Austin real estate developer Nate Paul. Paul, who is also a political donor, is currently facing federal charges for eight counts of mortgage fraud.
Impeachment is incredibly rare in Texas, Paxton is only the third public official in the state's history to be impeached.