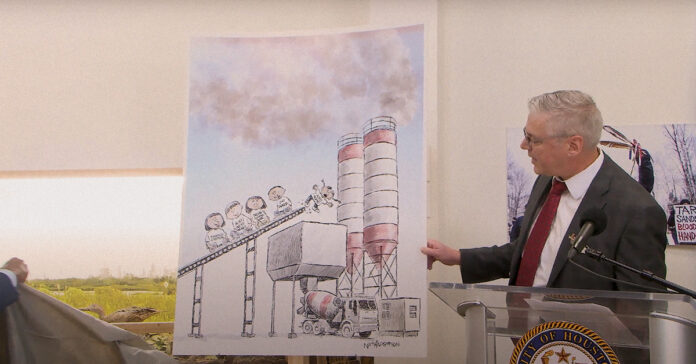 On Monday, Houston's Mayor, Sylvester Turner, and Reform Austin's very own managing editor, Pulitzer Prize Recipient and chief political cartoonist, Nick Anderson kicked off the "Houston Inspires/Houston Inspira," campaign at the Houston Climate Justice Museum and Cultural Center in Second Ward.
They were also joined by a number of environmental justice representatives, such as Air Alliance Houston, Citizens Environmental Coalition, Environmental Defense Fund, and Houston Wilderness. Houston Inspires is a public health storytelling campaign.
In October 2021, the U.S. Environmental Protection Agency (EPA) awarded the City of Houston a $200,000 grant to create and launch a public health campaign to engage environmental organizations, artists, and storytellers to inspire awareness and action to improve health and safety outcomes, as reported by the Mayor's Office Press Release.

"I am optimistic and excited about this initiative that will raise awareness and uplift communities in our city that have for decades been under-resourced, overlooked, and felt the direct impacts of climate change," said Mayor Sylvester Turner.

The campaign will educate and improve the lives of people in five communities: Acres Homes, Alief/Westwood, Kashmere Gardens, Near Northside, and Second Ward.

"Communities that are in a constant state of need, recovery, need, recovery, and constant trauma," said Mayor Sylvester Turner.

In the City Of Houston, life expectancy can vary by more than 20 years between zip codes.

The project will focus on the communities that are at risk from elevated levels of environmental pollutants, primarily PM2.5 (strongly associated with concrete batch plants) and benzene, both of which can increase and exacerbate health risks.

"The cost in human life, of years taken off of life, is wrong," said Nick Anderson, who in 2019 participated in a press conference demanding that the Soto Concrete Batch Plant not open, voicing the concerns of the community and raising awareness through a cartoon. Eventually, the developer withdrew their permits.
"That plant was sited directly across the street from a park…a park with a little league baseball diamond. That concrete batch plant was stopped, but there are so many more," Anderson said while explaining how The Supreme Court of Texas has made it impossible for the City of Houston to stop the permitting of these plants.

"The only thing that works is public pressure."

The project aims to do just that. It will communicate to people what is truly happening in the communities that risk elevated levels of environmental pollutants.

"I believe we are literally sacrificing children to save a few bucks on a ton of concrete," Anderson said as he unveiled a new cartoon titled "The Hidden Cost of Concrete Batch Plants."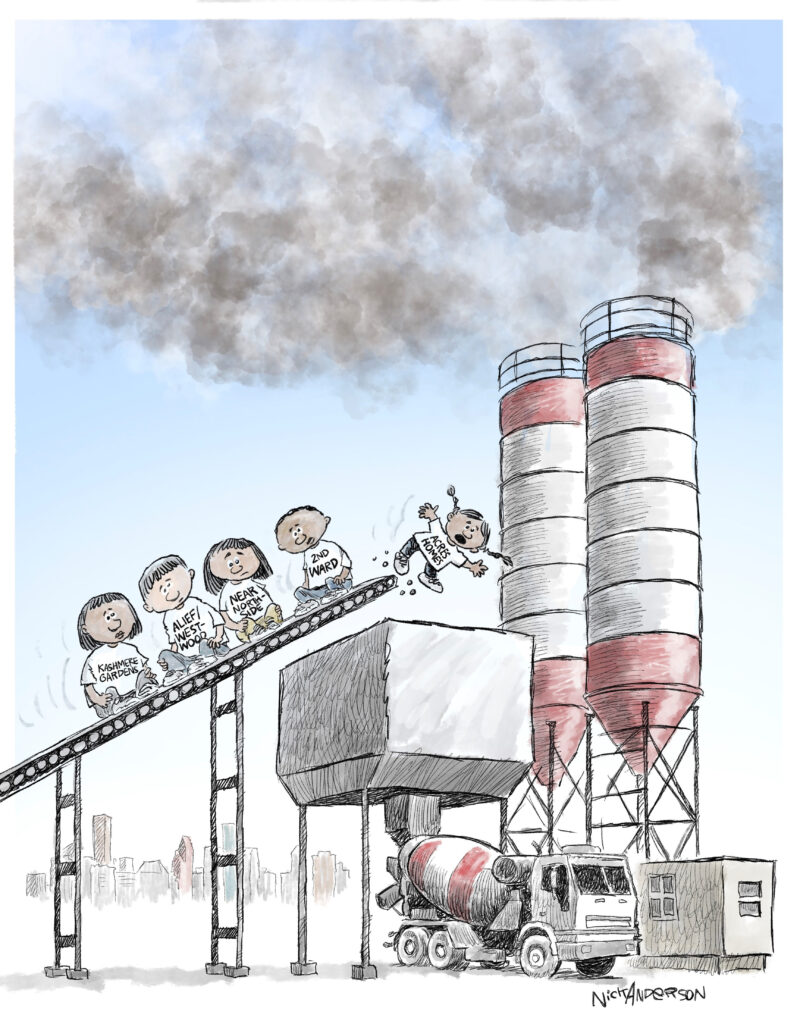 "We encourage all artists who have a passion to help underserved communities, especially those who live in these five communities, to apply."
A video of yesterday's campaign kick-off can be found here.