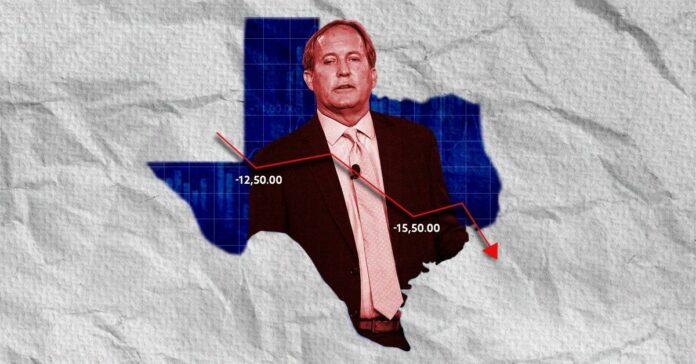 It seems that Attorney General Ken Paxton might finally be losing support from his own party according to recent polling.
As reported by Scott Braddock at Quorum Report, Paxton remains very well-known in his own party. However, he is seen much more negatively than other statewide Republican officers like Governor Greg Abbott and Lt. Governor Dan Patrick. He currently has a net positivity rating of +18 percent. Overall, 27 percent of those polled view him negatively.
That might not seem so bad, but bear in mind these are Republican primary voters. For comparison, Abbott has a net positivity rating of 75 percent, more than three times as high as Paxton. This is despite Paxton lagging behind Paxton only 5 percent in name recognition.
Analyzing the data, that means that a great number of Texas Republican voters know exactly who Paxton is and are starting to sour on him. The poll was conducted by Chris Perkins at Ragnar Research and involved 750 Texans who voted in the 2022 Republican primary.
What this means for Paxton's political future is anyone's guess. Paxton easily sailed to victory in both the 2022 Republican primary and general election against strong opponents in both contests. His myriad of legal woes, including an indictment for securities fraud and a federal investigation into misuse of his office, seemed to have no significant impact on his electability.
It's possible that this has changed as week two of his impeachment trial comes to a close. The poll was conducted in the last few days, so respondents have had ample time to process the trial in their responses.
Paxton is currently under impeachment for corruption charges stemming from preferential treatment by his office on behalf of friend and donor Nate Paul and Austin-based real estate developer who has been charged with eight counts of making false financial statements. House managers running the impeachment have provided testimony that Paxton helped shield Paul from investigation.
Paxton may be losing favor with some Republican voters, but there is still a tremendous support campaign being waged by far-right activists. Groups like LifeZette have been regularly emailing messages urging support for Paxton, lauding his many culture war initiatives over the course of his career. Such messages continue to claim the impeachment is a politically motivated witch hunt run by "Republicans in Name-Only" like House Speaker Dade Phelan.
Paxton remains popular with the more conspiratorial-minded segment of his party, who support his many lawsuits against the Biden Administration, work on the debunked claim that the 2020 presidential election was rife with fraud, and opposition to LGBT Texans receiving gender affirming medical care. His drop in support as measured by the recent poll is still small, and there's no real indication whether the GOP as a whole is ready to remove Paxton from office. That said, the impeachment is definitely making a statistical dent in Paxton's wall of support for the first time in his meteoric career.