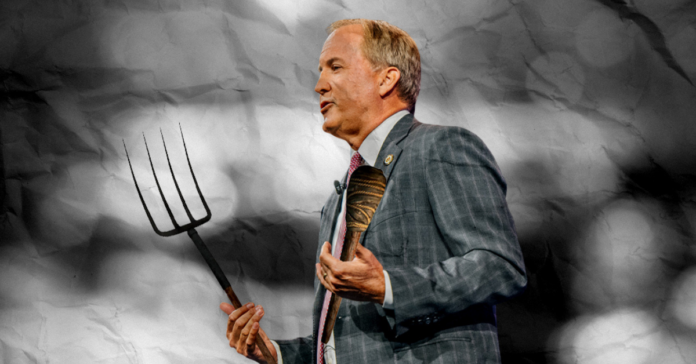 In a recent radio interview, recently reinstated Texas Attorney General Ken Paxton made it clear he is ready to seek vengeance for his impeachment.
"I'm highly motivated," Paxton told Dallas radio host Mark Davis. "I'll be spending a lot of time in Beaumont. I'll be spending a lot of time … in Kerrville. I'll be spending a lot of time in Collin County."
Beaumont is the home of Texas House Speaker Dade Phelan. Since the beginning of Paxton's impeachment hearing, Paxton and allies have accused Phelan of being in league with or controlled by Democrats when he oversaw the accusations of misuse of office. Phelan has long been a thorn in the side of the extreme right of the party, refusing to go along with high priority plans like passing school vouchers.
To call the impeachment process a political one is deeply underselling it. Texas House impeachment managers brought forward 13 witnesses and dozens of hours of testimony to prove that Paxton interfered with investigations into his friend and donor Nate Paul, currently indicted on financial fraud charges. Paxton's defense, led by Houston city council candidate Tony Buzbee, was mostly a lackluster accusation of political witch hunts by "RINOs" and the "Bush Dynasty" (George P. Bush was one of Paxton's primary challengers in 2022).
Behind closed doors, it looked like enough Republicans might have been moved by the evidence to convict Paxton. The Texas Tribune reports that as many as eight Republican senators were willing to vote to convict, but none were willing to do so unless the conviction was guaranteed.
"I feel there were six senators who were ready to be the 21st vote," said Sen. Nathan Johnson, D-Dallas. "But they didn't want to be the 20th vote."
In the end, only two Republicans voted for conviction, Robert Nichols of Jacksonville and Kelly Hancock of North Richland Hills. Several names were reported as being in play, including Joan Huffman of Houston and Mayes Middleton of Galveston, both of whom have been critics of Paxton in the past.
The wind was against a conviction from the beginning. Lt. Governor Dan Patrick oversaw the trial, which ended with a speech by Patrick castigating the House managers. Patrick also received $3 million from a pro-Paxton PAC immediately after the moratorium on political donations during the regular legislative session ended.
Big money and powerful figures rushed to Paxton's defense throughout the trial, including former President Donlad Trump, who is also facing legal troubles over misuse of office. Far-right big money PACs continued to support Paxton because of his lawsuits against the Biden Administration and general execution of extremist policies.
In the end, every senator had to weigh the possibility of revenge by Paxton for a vote, though to a person, all Republican senators deny this had any influence on their decision.
For now, Paxton appears focused on the members of the House who impeached him. He's targeted Jeff Leach of McKinney, who gave one of the closing arguments, and Andrew Murr, of Kerville, who chaired the managers.
"Jeff Leach, watch out!" promised Paxton.