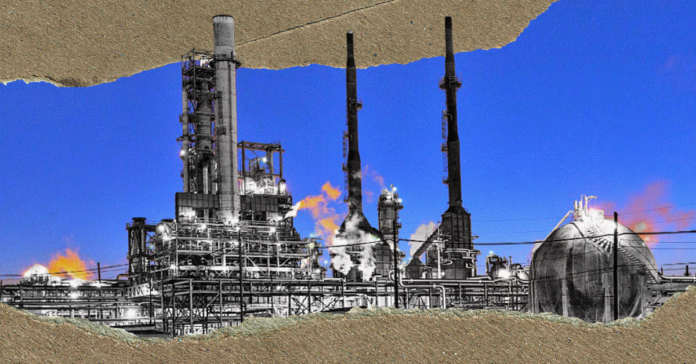 Michael Bloomberg, former mayor of New York and one-time presidential hopeful, has announced a new nonprofit campaign this week called Beyond Petrochemicals: People Over Pollution, to help block the expansion of more than 120 proposed petrochemical industry projects in three states, Texas, Louisiana, and Ohio.
Drawing on the success of his other philanthropic endeavors like Beyond Coal and Beyond Carbon, the new initiative will help local communities in those three states fight the launch of new polluting plants, with $85 million committed to the effort.
According to a press release from Bloomberg this week, Beyond Petrochemicals "will also work to establish stricter rules for existing petrochemical plants to safeguard the health of American communities… and will support people fighting petrochemical projects in their communities, finance better data collection, and…hold petrochemical companies accountable for pollution."
Many heavily polluted areas are located in red states with weak environmental regulations. For example, Texas is home to a quarter of the top 20 cancer pollution hotspots, including the Houston Metro Region, which ranks eighth-worst in the nation.
This continued pollution contributes to frequent air quality alerts from the Texas Commission on Environmental Quality (TCEQ), and ironically, the commission's alerts do not mention the numerous polluting plants, but instead, it recommends citizens bike or carpool to work as a way to combat the Ozone pollution and its effects.
The TCEQ alerts read "Atmospheric conditions are expected to be favorable for producing high levels of ozone air pollution in the Houston area on Thursday. You can help prevent ozone pollution by sharing a ride, walking or riding a bicycle, taking your lunch to work, avoiding drive-through lanes, conserving energy, and keeping your vehicle properly tuned."
While automobile operators contribute to carbon emissions, many of these activities listed in the alert cannot easily be avoided, especially in sprawling areas like the Greater Houston Metro area, one of the nation's largest by size and population.
Jennifer Hadayia, executive director of the anti-pollution nonprofit Air Alliance Houston, said Bloomberg's funding will bring "much-needed investment and attention" to help communities monitor neighborhood air quality.
These existing petrochemical industry plants have been significant emitters of carbon and toxic pollution for decades, and are often referred to as the "Cancer Alley" or the "Cancer Belt." These locations span the Gulf Coast region from Southeast Texas to Southeast Louisiana.
The EPA has a reputation for not considering the cumulative impact of area pollution before allowing the building of new facilities known to emit pollution. Due to wealth inequality, a higher concentration of polluting plants operate in those communities of color.
The result is disproportionate health impacts from air pollution for Black and Latino citizens.
ProPublica recently reported that according to U.S. Census data, in residential areas where the majority of residents are people of color, the citizens experience about 40% more cancer-causing industrial air pollution than in predominantly white areas.
Bloomberg is not alone in his quest to discourage the petrochemical industry from expanding. Louisiana's 19th Judicial District Court's rejection of Formosa's enormous "Sunshine" plastic project and the cancellation of the South Louisiana Methanol project stunned some industry observers.
And according to the nonprofit Earth Justice, the Formosa defeat is a major victory for a group of organizations that fought the planned expansion.
"RISE St. James, Louisiana Bucket Brigade, Healthy Gulf, No Waste Louisiana, Center for Biological Diversity, Earthworks, the Sierra Club, and others in a years-long fight," according to their website.
Regarding the Formosa decision, Sharon Lavigne, president of the advocacy group RISE St. James said "The judge's decision sends a message to polluters like Formosa that communities of color have a right to clean air, and we must not be sacrifice zones."
Anne Rolfes, director of the Louisiana Bucket Brigade, "South Louisiana Methanol bungled this project for over a decade, as demonstrated by its ongoing starts and stops. It should have been obvious to the state that the company was in no shape to run such a hazardous facility."
The Louisiana Department of Environmental Quality (LDEQ) was finally willing to concede that environmental and community organizations were right to fight the project. "It took hundreds of residents banding together to force LDEQ to recognize how overburdened the community is with industrial pollution, and to show polluters that we will not accept another plant moving in," Rolfes added.