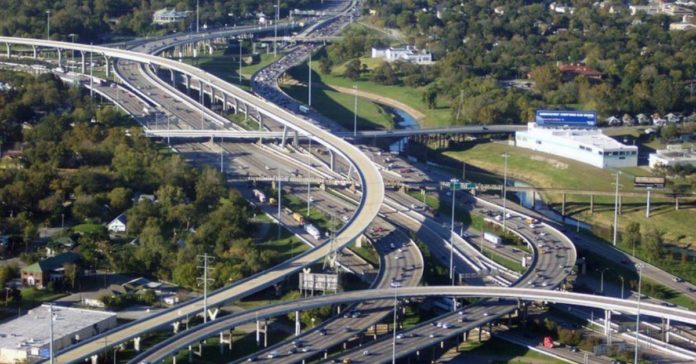 Getting stuck in traffic on I-45 is as much a Houston tradition as BBQ, Tex-Mex and the Rodeo. The Gulf Freeway has been under construction for as long as I can remember, and when I ask an older neighbor, it's the same story. As Houston has grown, so has our reliance on an incredibly complex network of roads and freeways necessary to get around.

According to the U.S. Census Bureau, nearly 7 million people live in the eight county area, with 4.7 million in Harris County and 787,000 in Ft. Bend County. Metro Houston believes our population will hit 10 million by 2040.

So it's no surprise that once again, we need to think about transportation, and two agencies are proposing contrasting futures.

The Texas Department of Transportation (TxDOT), with the half-hearted blessing of the Houston-Galveston Area Council (HGAC), wants to expand I-45. This 17 year planned project in the making will rethink how the North Freeway integrates with downtown, moving I-45 to align with I-69 on the East side and adding tolled lanes on the north between I-10 and I-610. The optimistic case for the $7.2 billion project will increase traffic speeds by 24 mph and reduce congestion. It will reunite Midtown with Downtown and open up new green space areas.

The downside, according to the Make I-45 Better Coalition, is the continued displacement of low-income residents and businesses, increased air pollution, and no real gains to congestion.

The project won't break ground until 2021 at the earliest, so plans may change, but it's clear that TxDOT is focused on keeping a one-person-one-car approach central over the next several decades.

Metro Houston has a different idea. After discussions with residents, the Board recently approved MetroNext, a plan to rapidly expand bus rapid transit, light rail, and HOV lanes.

Longtime residents have had their own issues with this $3.5 billion bond-financed plan as well, and still do not have many specifics. The Chronicle reports that many neighborhoods East of Downtown Houston want a rail line, but aren't sure where exactly it should go. Others in the Washington Heights area are divided over whether to expand transit there.

Ultimately, voters will tell us how they feel about this multi-modal (read: less car) focused approach in November.

The two approaches highlight the continuing divide in the state. Those in the urban cores want higher density and mass transit funded at the county and local level. But suburban residents want roads for their cars paid for by the state. The divide came up in a recent discussion when the City of Houston relaxed parking minimums in the East End and Downtown.

As a former transportation analyst, I've seen the issues with continued road expansion. No matter how many lanes are added, drivers always fill them. Transportation planners need new ideas and a focus on multi-modal options will help reduce the number of cars on the road.

It's time to embrace the future—and where we're going, we don't need roads.