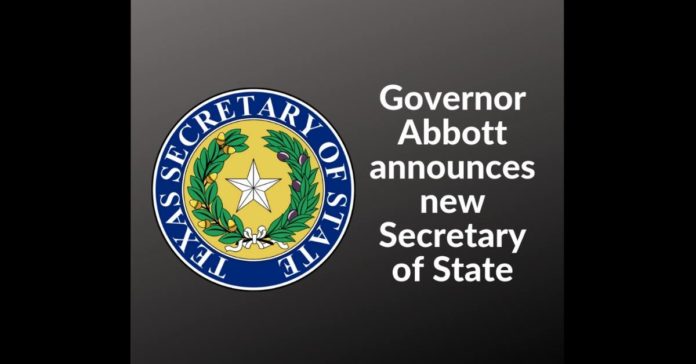 Gov. Greg Abbott's office announced on Thursday, August 19 that he would appoint Ruth Ruggero Hughs as the next Texas Secretary of State. The announcement followed a lengthy vacancy for a role that was officially vacant in late May.

Of the new appointee, Gov. Abbott said, "Ruth is a proven leader who has done a tremendous job as both a commissioner and the Chair of the Texas Workforce Commission. She has built strong relationships with the business community throughout Texas and has helped lead the way in developing the best workforce in the nation. I am proud to appoint Ruth as Secretary of State and I am confident that her experience at the Texas Workforce Commission will translate into success in this new role. Under Ruth's leadership, we will continue to build the Texas brand on the international stage and uphold the integrity of our elections."

In Ruggero Hughs' new role as Secretary of State, she will serve as Chief Election Officer for Texas, assisting county election officials and ensuring the uniform application and interpretation of election laws throughout Texas.

The duties of this role will likely be under scrutiny, as Ruggero Hughs' appointment follows former appointee David Whitley's "amateurish attempt" earlier this year "to purge the state's voter rolls of noncitizens — a list of almost 100,000 people that turns out to include lots of legitimate voters on it."

The Secretary of State also serves as liaison to the Governor for Texas Border and Mexican Affairs and Chief International Protocol Officer for Texas, where the Secretary is charged with coordinating and facilitating meetings between Gov. Abbott and international leaders.

Ruth Ruggero Hughs of Austin has served as Chair of the Texas Workforce Commission since August 2018, and was first appointed in July 2015. She is a member of the State Bar of Texas and the New Jersey State Bar and chair of the Advisory Council on Cultural Affairs.