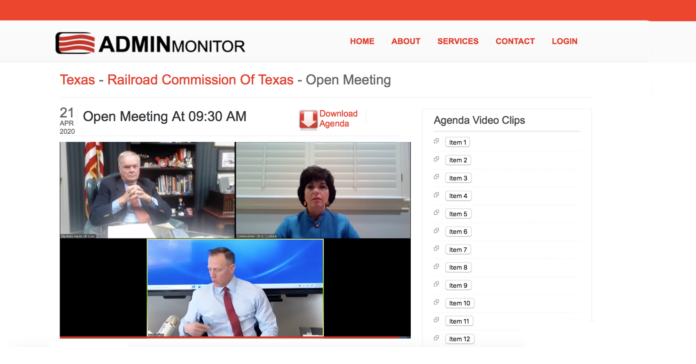 Meeting a day after the price of oil plunged into negative territory for the first time in the industry's history, the Texas Railroad Commission has again pushed off any decision on a request to impose production cuts in Texas to help stabilize the market.
Noting that the price of oil has fallen $90 in the last six weeks, Commissioner Ryan Sitton was ready to vote today. His fellow commissioners were not.
Sitton argued that the long, hard fight for U.S. energy independence hangs in the balance right now.
"I don't believe that inaction on our part is acceptable," Sitton said. "I believe that we have to step up and do things to protect that energy independence because in the end we don't work for the energy industry. We work for 27-28 million Texans, and I believe it is in their interest for our energy economy – our energy industry – to be strong."
Sitton put forth a motion to cut Texas production by 20 percent, a million barrels a day, effective June 1. The reduction, which was originally submitted to the commission by Pioneer Natural Resources U.S.A. Inc. and Parsley Energy Inc., would be contingent on further cuts by other U.S. producers, Canada and the OPEC+ countries. It would apply only to Texas producers of more than 1,000 barrels a day and would be lifted once worldwide market demand returns to at least 85 barrels a day.
"I know that this is not comfortable for us," Sitton told his colleagues. "I know that in general, the rule of politics tells us that we should wait for consensus — that it is a little bit risky to take these kinds of votes — so trust me I see the opportunities out there for challenges from across the spectrum."
Chairman Wayne Christian and Commissioner Christi Craddick cited legal concerns in not wanting to act today.
Oil closed at -32.25 per barrel Monday. The venture into negative territory is due to a production glut caused by reduced demand while everyone stays home to fight the spread of coronavirus.
May 5 is the next opportunity the railroad commission will have to consider the production cut question.