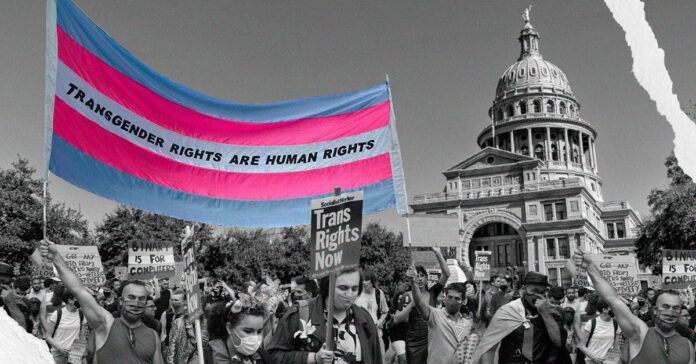 Senate Bill 14 is set to ban gender-affirming care for trans youth in Texas, but under an amendment, children who were already under a doctor's care would at least be allowed to continue. That amendment was stripped out of the bill on Monday.
The amendment was added with bipartisan support. State Rep. Tom Oliverson (R-Cypress), who is the author of a similar bill in the House as well as a physician, praised the medical wisdom of adding the amendment to keep current patients safe in a March 30 tweet.
"I have always endeavored to follow the science on this complex issue," it read. "This has sometimes proved challenging due to the lack of high-quality studies in this area, especially ones confirming the benefits of these treatments in children. Also, we could find no studies providing guidance on the effects of rapidly withdrawing these medications from a patient. Thus, we felt that this was uncharted territory. Add to that the likelihood of the 'placebo effect' alone would dictate that the rapid withdrawal of a medication that a patient believes is working would likely lead to a worse outcome."
Puberty blockers and light hormone therapy is used on trans youth to reduce instances of gender dysphoria, a condition that results in severe depression centered around gender presentation. Every major national medical governing body in the United States agrees that gender affirming care leads to better patient outcomes, less mental anguish, and reduced suicidal ideation.
The Texas Medical testified to the Senate that patients already receiving medications should be allowed to continue.
Though initially supportive of the amendment, SB 14's author Donna Campbell (R-New Braunfels), called for its removal, citing a lack of discussion on the matter in committee. If the bill passes in its current form, parents can be held legally liable for providing gender affirming care to their children starting on September 1.
It's possible that the reason for Campbell's sudden about face is driven by the ideological crusade against trans people permeating the furthest right regions of the Texas Republican Party. Chairman Matt Rinaldi was apparently outraged by the amendment, saying that it spat in the face of all the children currently being abused. Gender affirming care is not considered child abuse by any medical body in the country, despite Rinaldi's beliefs.
According to the Quorum Report, a Texas Republican senator grumbled at the amendment being stripped out and outright blamed Rinaldi for superseding the authority of Lt. Gov. Dan Patrick, who runs the Senate.
In addition to banning medical care considered best practices by doctors, the bill would also strip funding from Texas hospitals that provide it. Some exceptions are carved out for other uses of the treatments, such as surgeries on intersex people.
The bill will now advance to the House. Whether the loss of the amendment is enough to scuttle its passage or lose the support of Oliverson is unknown. Meanwhile, families with trans children wait to see if they'll be criminals for following their doctors' advice.