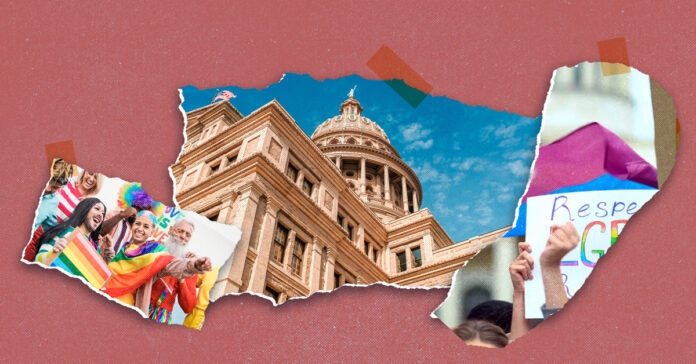 On Wednesday several families with transgender children filed a lawsuit at the state court to block a new Texas law that would stop minors from receiving gender-affirming care.
Parents argue that the new law, which goes into effect Sept. 1, violates their parental rights by stopping them from providing their children with the medical care they need and discriminates against their kids on the basis of their sex. Various doctors have also joined the lawsuit, arguing that the new law would interfere with their ability to practice medicine and licenses.
Texas is the largest of the 18 states that have recently passed restrictive gender-affirming care laws for minors. The Republican-controlled Texas Legislature passed Senate Bill 14, which Gov. Greg Abbott signed into law in June.
The law would stop minors from accessing any transition-related health care, including puberty blockers and hormone therapies.
The lawsuit relies on similar legal arguments made in several states, such as Florida, Arkansas and Tennessee, and have successfully blocked or halted restrictions there.
"The attack that Texas legislators and the governor have launched against transgender youth and their families and providers is stunning in its cruelty," Paul D. Castillo, senior counsel for Lambda Legal, which filed the lawsuit, told the Texas Tribune. "They are actively ignoring the science, dismissing best-practice medical care, intervening in a parent's right to care for and love their child, and explicitly exposing trans youth in Texas to rampant discrimination. This law is not just harmful and cruel, it is life-threatening."
SB 14, would stop transgender minors from accessing puberty blockers, hormone therapies or transition-related surgeries, that medical experts say are rarely performed on children. The kids who already receive this care would be required to be discouraged in a "medically appropriate" manner, the law says, which many doctors say would be unethical.
"The science on gender dysphoria lacks sufficient high-quality evidence documented, and there's a growing list of harms, established side effects that accompany patients," state Rep. Tom Oliverson (R-Cypress) who sponsored the bill in the House, said during debate on the bill. He said that the bill was written to combat expected court challenges.
After the lawsuit was filed, state Rep. Jeff Leach (R-Plano) tweeted that the challenge was expected: "What should also be expected is the State of Texas vigorously defending this law that protects children from dangerous and irreversible modification and mutilation procedures. We will fight. And we will win."
The Texas attorney general's office did not immediately respond to requests for comment, according to the Texas Tribune.
All important medical associations support the use of puberty blockers and hormone therapy to treat gender dysphoria, the affliction someone feels when their gender identity doesn't match their sex assigned at birth.
However, in recent years, conservative groups have kicked off an all-out war on gender-affirming care, branding it as "genital mutilation."
While the law has yet to go into effect, healthcare options for transgender minors are already shrinking in the state. A Houston-based Texas Children's Hospital, in May, announced that it would stop hormone therapy and other gender-affirming care treatments. In the same month, after Attorney General Ken Paxton announced an investigation into the hospital, the adolescent health specialists at Dell Children's Medical Center in Austin went their separate ways from the hospital.
"I can't tell you what it feels like to be on the end of a call of a parent who has lost their child because their child looks out into the world and sees a world [where], overwhelmingly, adults are telling them and bullying them that they do not belong here, that they are not well, that they are not who they are," Emmett Schelling, executive director of the Transgender Education Network of Texas, told the Texas Tribune. "Then you strip away what's already a thin layer of the system of health care to support our communities here in the state of Texas. And it's an even worse outcome.
The law's "chilling effect" diminishes healthcare options for transgender adults as well, Schilling said. Many families have decided to leave Texas to make sure their children can receive the healthcare they need.
"Because my daughter might need puberty blockers in the next few months, I am temporarily relocating out of state with her and my other child," said one of the plaintiffs, identified in the lawsuit as Mary Moe, who is the mother of a 9-year-old transgender daughter. "I am heartbroken to have to take my children away from their home and their father, even temporarily. But I know that Texas is not a safe place for my daughter if this law forbids her access to this care."
While these laws cruised through the Republican-dominated statehouses, they are encountering legal hurdles in courtrooms.
A federal judge, in June, ruled that Arkansas's ban on gender-affirming care for minors is unconstitutional because it violated the equal protection rights of transgender children and their families and due process.
"Rather than protecting children or safeguarding medical ethics, the evidence showed that the prohibited medical care improves the mental health and well-being of patients and that, by prohibiting it, the State undermined the interests it claims to be advancing," the judge wrote.
In Florida, Kentucky and Tennessee, federal judges blocked those states' laws from going into effect. However, an appeals court in Tennessee intervened and allowed the state to implement its ban.
The lawsuit cites parental-right protections laid out in the Texas Constitution.
"The Texas Constitution provides stronger rights for parents, stronger rights in the guarantees of equality … and much stronger rights with respect to the individual rights of autonomy," Lambda Legal senior counsel Paul Castillo said. "Those decisions that rest with parents are at their apex when they are made in consultation with physicians who recommend this medically necessary care."