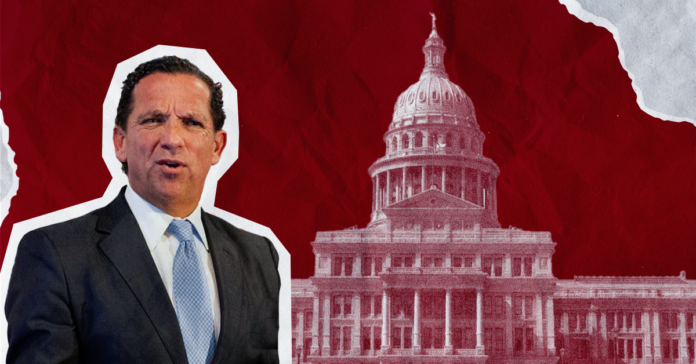 As the impeachment trial of suspended Texas Attorney General Ken Paxton lurches to its September 5 start date, his legal team is alleging unclear misconduct from the Texas House impeachment investigators.
On Wednesday morning, Paxton's attorney, failed Houston mayoral candidate Tony Buzbee, issued a statement accusing the House of withholding documents needed to prepare for Paxton's offense.
"Because of the intransigence of [Speaker Dade] Phelan's House Managers and their refusal to disclose documents as required by law, it is imperative that the Senate take immediate action to force the House Managers to follow the law," he said.
Buzbee did not explain what documents had not yet been disclosed, but did assert Paxton was impeached without evidence. This is untrue as House investigators heard evidence from multiple sources in rare public testimony before the Republican-dominated chamber voted to impeach Paxton by a comfortable margin.
Paxton's rush to see some of the unknown documents could have something to do with the new financial investigations that the House is undertaking which may result in additional charges. House investigators are looking into whether Paxton helped a company he was an early investor in receive a lucrative Texas Department of Public Safety contract, as well as a multi-million dollar real estate spending spree Paxton recently went on. It's possible that the information Paxton is seeking may have more to do with ongoing investigations rather than the abuse of office charges he is already preparing a defense against.
Paxton is also under federal investigation for abuse of office, specifically allegations he tried to impede an investigation into recently-indicted Austin real estate mogul Nate Paul.
Whatever the reason, Buzbee has petitioned Lt. Governor Dan Patrick for an expedited and meticulous pre-trial schedule that would wrap up all pre-trial disclosures by the end of July. Currently, the House investigators have a deadline of August 22.
It's unclear whether Paxton actually has the constitutional rights to disclosure that Buzbee is asserting. Though a trial, the Senate hearing on impeachment is not technically a criminal justice enterprise. The only thing the Texas Senate can do is permanently remove him from office. Actual charges would come either from state or federal authorities, if at all.
Buzbee says Paxton will not "dignify" the Senate trial by testifying. The impeachment has been labeled a witch hunt by Buzbee and the legal team, who claim that it is actually Paxton's hardline conservative politics that are under scrutiny. This seems highly unlikely considering that Paxton was impeached in a wide bipartisan effort that included several far-right Republicans.
If Paxton is removed from office, he would likely be preparing for another trial. Paxton remains indicted for securities fraud. It's been nine years since the indictment, but the proceedings have been slowed by nit-picky arguments over special prosecutor pay and other matters. Despite Paxton's myriad of state and federal legal troubles, he sailed to an easy third term in office in 2022.