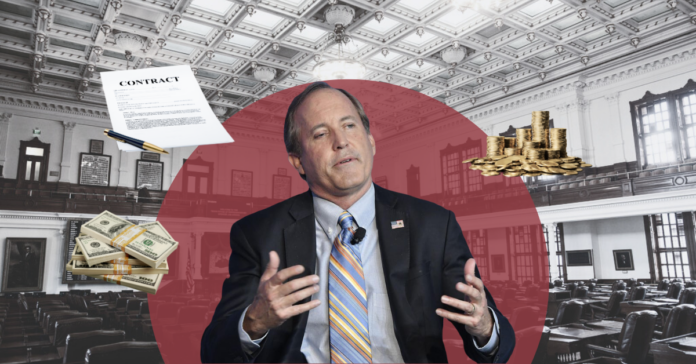 Impeached Attorney General Ken Paxton will have his trial in the Texas Senate starting September 5, but there may yet be more charges coming. The House impeachment team is looking into several financial deals that Paxton has made over the course of his long political career.
The Dallas Morning News reports that Paxton's stake in a company called WatchGuard Video is currently the subject of impeachment investigators. WatchGuard (now owned by Motorola) provides bodycam technology for law enforcement and has $33 million in sales since 2014. Paxton was an early investor in the company back when he was just a state representative.
When the company landed a contract with the Texas Department of Public Safety in 2006, it jumpstarted their business. Investigators are looking into whether Paxton helped WatchGuard get the contract, though the former CEO Robert Vanman of the company denies Paxton did so. Paxton failed to disclose his investment on his ethics form, though he did amend it in 2008 when his investment became public.
Vanman has contributed $5,500 to Paxton and his wife's political campaigns since 2009. In 2016, WatchGuard began building a $44 million campus in Allen, the district where Paxton was a representative and his wife, Angela, is currently a state senator.
Paxton's holdings with WatchGuard were put in a blind trust when Paxton became attorney general in 2015.
That blind trust is also under investigation. Between July 2021 to April 2022, the Paxton's went on a real estate spending spree totaling $3.5 million. The properties they bought include a huge ranch in Oklahoma, plots in resort towns in Utah and Hawaii, and townhouses.
The hefty price tag is what raised the eyebrows of the impeachment investigators. Ken Paxton makes only $153,750 as attorney general. Angela Paxton is a high school math teacher who gets $7,200 as a state senator plus a per diem when the legislator is in session. While the couple is clearly doing well, it's not so well that they could spend nearly $2 million in cash payments for properties.
Four banks and the blind trust that administers the Paxtons' finances have been subpoenaed.
Paxton was impeached by a comfortable majority in the Republican-dominated Texas House. He is accused of misuse of office, particularly to help a long time donor. That donor, Austin real estate mogul Nate Paul, was recently indicted by federal authorities for financial crimes including fraud. The government is seeking $172 million from him.
Paxton is accused of trying to shield Paul from various investigations. Paul donated $25,000 to Paxton's political campaigns and also paid for the remodeling of his house. According to whistleblower complaints in Paxton's office, Paul arranged for a woman that Paxton had an affair with to receive a job.
This is unrelated to the indicted attorney general's looming court date for securities fraud, which dates back to before he was elected attorney general. Paxton has categorized his legal troubles as a witch hunt led by Democrats and moderate conservatives.