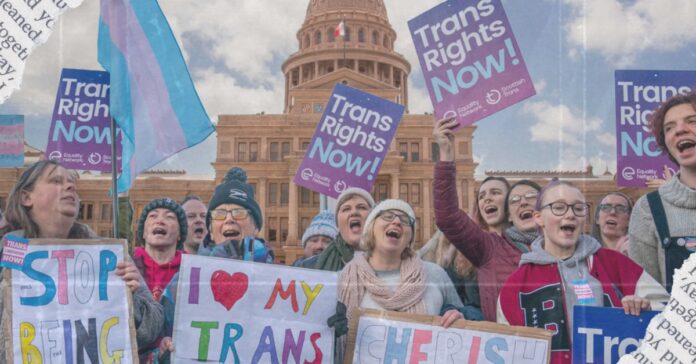 The Texas House has approved a bill that would ban certain medical treatments for transgender minors, with the legislation now just two steps away from reaching the desk of Governor Greg Abbott. The bill prohibits doctors from providing gender-affirming care to children and urges them to wean current patients off such treatments. The final vote in the House was 87 to 56, with four Democrats voting in favor of the bill. The Senate, where Republicans hold the majority, must now approve the House's changes before it can be sent to the governor.
The bill has faced significant opposition from transgender rights activists and Democratic lawmakers who argue that it violates the equal protection clause of the U.S. Constitution. Democrats attempted to challenge the bill through procedural tactics and proposed amendments but were unsuccessful. They expressed concerns about the negative impact on transgender youth and the restriction of healthcare access.
The bill received a final vote of 87 to 56, with four Democrats, namely Harold Dutton of Houston, Abel Herrero of Robstown, Tracy King of Batesville, and Shawn Thierry of Houston, voting in favor. Barbara Gervins-Hawkins of San Antonio was present but did not vote. On the other hand, no Republicans defied their party's stance by voting against the bill.
The bill would revoke the medical licenses of doctors providing treatments such as puberty blockers, hormone therapy, or surgery to minors for the purpose of transitioning their biological sex. Taxpayer funds would also be prohibited from supporting entities providing such care to minors.
Supporters of the bill argue that mental health care should be the sole treatment for youth experiencing gender dysphoria, dismissing the efficacy of transition-related medical care. Representative Tom Oliverson, the bill's sponsor, criticized peer-reviewed studies and major medical organizations that support gender-affirming care, stating that they lack rigor and scientific debate. Despite the controversial nature of the bill, the House debate remained largely calm.
If the Senate approves the House's changes, the bill will proceed to Governor Greg Abbott's desk for consideration. Abbott, a Republican, has not publicly commented on the legislation. The bill is part of a larger set of measures targeting LGBTQ and transgender rights in Texas, including bills restricting transgender athletes and regulating LGBTQ discussions in schools.
The Meyerland Area Democrats Club decided to censure state Rep. Shawn Thierry due to her support for the transgender care ban and her support for HB 900, which imposes restrictions on school library books. This censure marks the first time in two decades that the club has taken such action.