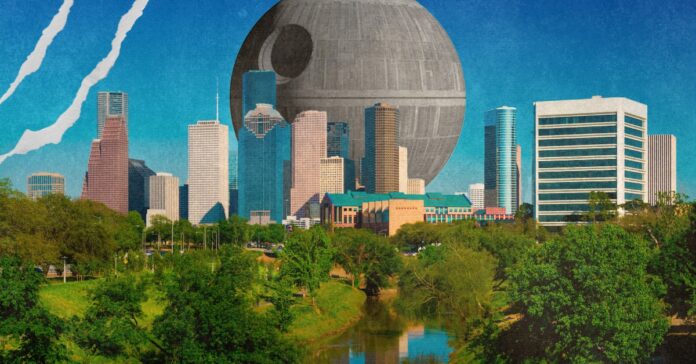 In a move that could significantly limit the authority of Democratic-run cities and counties in Texas, the Republican state leaders' most extensive effort to prevent progressive policies is advancing towards becoming law. The Texas Senate gave preliminary approval to House Bill 2127 with an 18-13 vote mostly along party lines, bringing it one step closer to implementation.
The bill, authored by state Rep. Dustin Burrows, aims to restrict cities and counties from enacting local ordinances that go beyond existing state law in areas such as labor rights, agriculture, natural resources, and finance.
Gov. Greg Abbott and supporters of the bill argue that such legislation is necessary to counter what they perceive as burdensome local regulations that impede business owners and harm the state's economy. Business lobbying groups have joined in advocating for the bill, asserting that it provides much-needed consistency and certainty for small businesses to invest, expand, and grow.
However, opponents of the legislation, including Democratic lawmakers and local officials, have raised concerns about the potential consequences. They argue that the bill could nullify existing regulations, such as water breaks for construction workers and water-use restrictions during droughts, while also undermining efforts to combat issues like predatory lending, invasive species, excessive noise, and nondiscrimination ordinances. Detractors view the bill as undemocratic and a usurpation of local decision-making.
The bill's broad language leaves room for ambiguity, prompting speculation about its true impact on local governments' rule-making authority. Critics believe that the law's consequences will likely be defined in court as businesses challenge ordinances they disagree with, potentially leaving local leaders powerless to address local problems. Democrats have expressed concerns that the Republican-dominated Legislature could revisit the law in the future to address unintended consequences.
State Sen. Sarah Eckhardt, an Austin Democrat, questioned the argument that local ordinances harm the state's economy, pointing out that most of the state's economic output comes from urban areas. However, supporters of the bill countered that companies like Tesla and Samsung have chosen to locate just outside major city limits, emphasizing the need to rein in cities that exceed their authority under state law.
Efforts to amend the bill to protect local nondiscrimination ordinances and allow cities to mandate water breaks for construction workers were unsuccessful. The passage of the bill marks a significant escalation in Texas Republicans' long-standing campaign to diminish the power of the state's Democratic-controlled urban areas. In recent years, the Legislature has already limited cities and counties' authority to regulate fracking, impose rental requirements, and make police spending cuts or property tax increases without voter approval.
The bill's opponents highlight their concerns over local worker protections, such as mandatory paid sick leave and water breaks for construction workers, which exceed state law. Labor groups argue that federal agencies like the Occupational Safety and Health Administration (OSHA) are inadequate in protecting workers from heat stress, indicating that specific national heat standards could take years to develop. They warn that the bill's passage could hinder local governments' ability to address working conditions and protect worker rights effectively.
Aside from this bill, Republicans have targeted other local regulations this year, including measures to prevent local mask mandates and impede tenant protections in eviction cases.
As House Bill 2127 progresses towards becoming law, the battle between state and local authorities in Texas intensifies, raising concerns about the erosion of local control and the potential impacts on workers, businesses, and the democratic process.