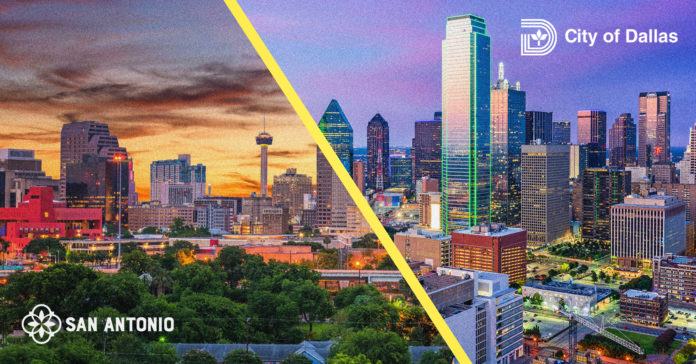 Dallas and San Antonio made the 2020 edition of Forbes's annual list of the best U.S. cities for retirees. 
Here we talk with two real estate experts about why these two cities are good places to spend your golden years.
In Dallas, the median home value is $226,145, according to Zillow.
There has been a significant increase in retirees moving to the area in the last two years, said Tommy Pistana, a founding member of real estate brokerage Compass DFW's Southlake office.
"I think this has to do with the amount of young families moving here and their parents wanting to be close to them," Pistana wrote in an email Friday.
One of Dallas's biggest draws is its affordability.
"If you look at the rest of the country, it's still very inexpensive to live here. Plus, being centrally located, it makes it easy to jump on a plane and head either east or west to go visit family or friends across the country," he said.
The weather in Dallas is also appealing.
"Yes, it gets a little hot in the summer, but you can enjoy mild winters and plenty of sunny days throughout the year all while saving money because of the inexpensive cost of living," Pistana said.
He was on an episode of "House Hunters," the popular HGTV show about couples finding the perfect home, on Sept. 4.  
In San Antonio, the median price for a home is $187,718.
"It's no surprise that San Antonio was selected as one of the best places to retire in the United States," said Kim Bragman, 2020 chair of the San Antonio Board of Realtors.
San Antonio is known as Military City, USA, Bragman said.
"Many military veterans seem to find their way back to San Antonio once they retire from active duty, because of the positive experience they had while living in San Antonio and surrounding areas," he said.
San Antonio has other things to love, too.
"The affordability, entertainment, healthy living options, and access to travel are great reasons for anyone to retire here," Bragman said.
Though the city has quite a variety of demographic groups, Bragman said couples and families are moving to San Antonio to enjoy transitioning into retirement.
"San Antonio also offers amazing outdoor, recreational activities like walking and hiking trails, scenic sites, and a cultural heritage unlike any other," Bragman said. "This is a benefit both to those who choose to retire here, but also a draw for friends and family to come visit the retirees, because there is so much to do, see, and experience."
Another reason people may enjoy living in San Antonio is that surrounding communities like Cibolo and Boerne are becoming incredible, walkable spaces, Bragman said.