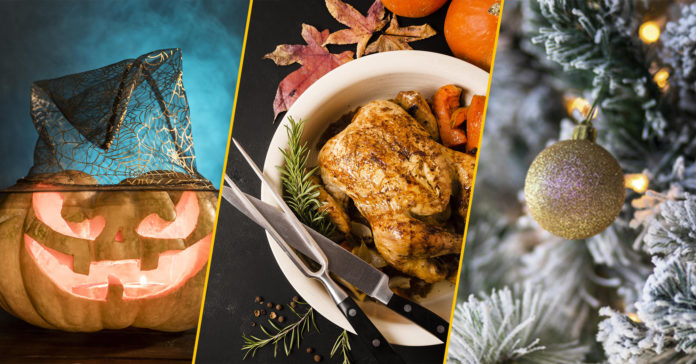 It's hard to believe, but Christmas is three months away, and Halloween and Thanksgiving are just around the corner. What will the holidays look like this year? Will kids go trick-or-treating? Will families be traveling over the bridge and through the woods to grandmother's house?
"Tough question — one I'm dealing with myself," said Dr. Catherine Troisi, an infectious disease epidemiologist at UTHealth School of Public Health in Houston. "You have to assess the situation for your particular circumstances — it will depend on the rate of COVID-19 in your community and the one you're going to (if traveling), your risk factors as well as the risk factors of those you'll be in contact with."
"There is no one-size-fits all answer here," Dr. Valerie Smith, Tyler pediatrician and member of the TMA COVID-19 Task Force, wrote in an email on Friday.
"It may be very reasonable for healthy adult siblings who are low risk to spend Thanksgiving together, but not a good idea for an older family member with medical risks to join a large extended family gathering of 20 plus people," Dr. Smith wrote.
Dr. Troisi said that if you need to travel, go by car if possible. If you need to fly, try to book a day and time for your flight that isn't as crowded.
"Look for an airline where middle seats are not filled," she said.
On the plane, wear your mask with a plastic face shield over it.  It's best not to eat or drink on the flight and don't use the bathroom unless you're desperate. Wipe down tray tables and other surfaces with disinfection wipes and use hand sanitizer. In the airport, keep at least a 6-foot distance from others.
Dr. Smith says if you are flying, remember that different airlines are taking different precautions so take the time to learn about and make sure you are comfortable with the measures for the airline you are using.
Avoiding large gatherings is still recommended, which means celebrated just with immediate family.
"Quarantine those who will be getting together for two weeks, if possible, before the get-together," Troisi said.
"Zoom calls are a possibility for those who are at high risk and don't want to get infected," she said. "Start some new traditions that don't involve close contact."
In Houston, for example, where the weather may be favorable, you might choose to meet outside to have a picnic with physical distancing instead of a sitdown holiday dinner. 
​"As humans, we need connection, and the holidays are an important time for that, but they are often also stressful due to large gatherings with preparation demands and family conflict," wrote Smith.
Smith says this year might be a great opportunity to have smaller, simpler events.  "Focus on those relationships that are most important to you. And look for ways to connect with more extended family via FaceTime, email, phone calls, and care packages."
This advice mirrors new Centers for Disease Control and Prevention guidelines for social gatherings and travel during the holiday season.
The CDC recommends just staying home over the holidays this year. That includes no trick-or-treating, which is a high risk activity. You can find alternative activities here.
The CDC also has tips for celebrating Día de los Muertos, a popular event among Hispanics. You could plan a virtual celebration, decorate masks, have an open-air parade, visit and decorate the graves of loved ones with household members only and then enjoy preparing traditional family recipes together.
Even holiday shopping is expected to be different this year. Experts predict a rise in holiday sales of 1% to 1.5%, with online sales increasing by a whopping 25% to 30%.
Here are more articles on staying safe during the pandemic and flu season:
What If You Get COVID-19 and the Flu At the Same Time?
When Should I Get My Flu shot?