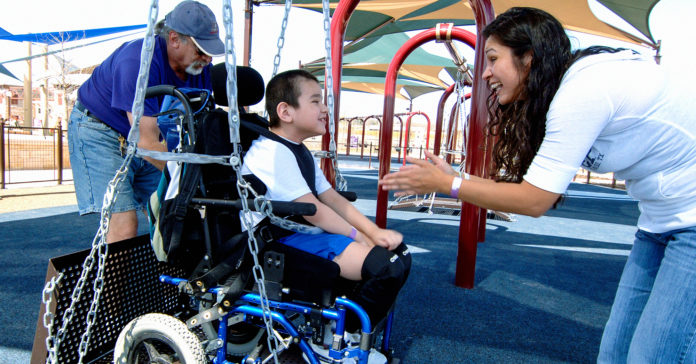 Morgan's Wonderland started with the inspirational story of Morgan Harman and "her ability to smile through physical and cognitive challenges." Her parents struggled to find a place for her to play and be herself completely, and an idea was born: a unique one-of-kind theme park for all people with disabilities. That idea has since grown to become the world's first accessible theme park for individuals with special needs, based right here in Texas.
Since 2005, Morgan's parents, Maggie and Gordon Hartman and The Gordon Hartman Family Foundation raised more than $50 million for the betterment of those with special needs.
Morgan's Wonderland first opened in San Antonio in 2010, and their website shares the foundation's wish that the park will fill a gap with endless possibility. "Morgan's fervent hope that everyone with a special need – young and older, healthy or ailing, introspective or outgoing – will be touched in a very special way by Morgan's Wonderland." The park is described as "a shrine of inclusion, an oasis of friendship, an unforgettable wonderland."
The Morgan's Wonderland's butterfly symbol, visible on logos and throughout the park, represents "soaring to one success after another."
All guests with special needs receive free admission, and in 2019 they welcomed over 166,000 guests, families and caretakers. The park is fully accessible for so many needs, and designed around unlimited outdoor recreation. Attractions include a sensory village, butterfly playground, wonderland express train, Whirling Wonder with fully accessible amusement park rides, off road adventuring, a carousel, waterworks, wheelchair swings, pirate island and much more. A fully accessible sports complex is in the works. In 2018, Time Magazine included Morgan's Wonderland in their "World's Greatest Places."
For one of the largest competitions of the year, Morgan's Wonderland will host the Special Olympics Texas (SOTX) for the 2020 Summer Games from April 30th to May 3rd. During that time the theme park welcomes over 3,000 athletes from across Texas.