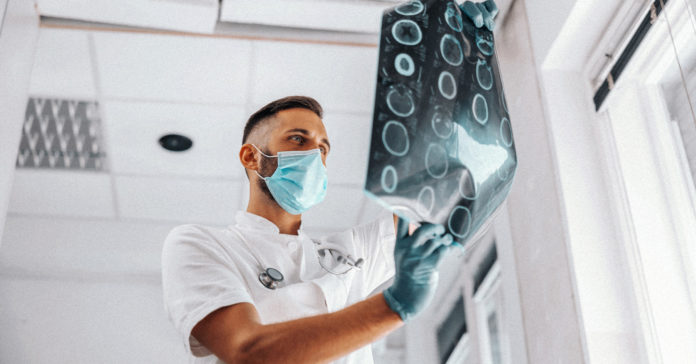 In Texas over 144,000 people per year experience a traumatic brain injury (TBI) (and  nearly 5 million visit the emergency room for a TBI in the U.S. each year).  Extreme force, or being struck by an object, a fall, or motor vehicle crashes are just some ways that a TBI can happen. 
A TBI injury can cause disabilities, impact memory or sensation such as vision or hearing, and can even lead to death. The severity of a brain injury can affect bodily movement and cause emotional changes such as depression. 
This month a new test that will help evaluate mild traumatic brain injuries received approval from the US Food and Drug Administration (FDA). The new Abbott handheld i-STAT™ Alinity™ rapid test will help people with suspected mild concussions and will eliminate wait time in emergency rooms, as the blood test produces results in 15 minutes.
UT Health Neurosciences Dr. Ryan Kitagawa said that although a head injury may commonly be referenced to sports, it can happen to anyone. Dr Kitagawa says the new test is a step further to detect the severity of brain injuries, which can help to save lives.
"The approval of Abbott's i-STAT test for GFAP and UCH-L1 is a game-changer for the diagnosis of traumatic brain injury," said Dr. Claudia Robertson, neurointensivist, Neurosurgical Intensive Care Unit, Harris Health-Ben Taub Hospital, and professor, Department of Neurosurgery, Baylor College of Medicine.
"The test can be done quickly in the emergency room, and provide information about the presence of a significant brain injury and therefore about the need for a CT scan," Dr. Robertson explained.
Dr. Robertson says the test will eliminate the need for a CT scan in some, and facilitate getting a CT scan for those that actually need one to evaluate their injury.
How the test works
A small blood sample drawn from the arm
Plasma is extracted and then inserted into the handheld instrument
Within 15 minutes the results will help doctors determine whether a CT scan or MRI is needed
The dangerous signs of a TBI
If you or someone you know may have experienced any of the following signs after a bump or jolt to the head, call 9-1-1 right away. Here's a full list of dangerous signs from the Centers for Disease Control website:
One pupil larger than the other.
Drowsiness or inability to wake up.
A headache that gets worse and does not go away.
Slurred speech, weakness, numbness, or decreased coordination.
Repeated vomiting or nausea, convulsions or seizures (shaking or twitching).
Unusual behavior, increased confusion, restlessness, or agitation.
Loss of consciousness (passed out/knocked out). Even a brief loss of consciousness should be taken seriously.
Although many people get treated for mild TBIs each year at major trauma centers, many do not get follow-up care.
A new study narrows in on traumatic brain injuries in women. 
Forbes reports that two-time Stanley Cup winner Daniel Carcillo is raising  awareness and advocating for survivors of TBIs. Carcillo is the founder of Wesana Health, read more here.