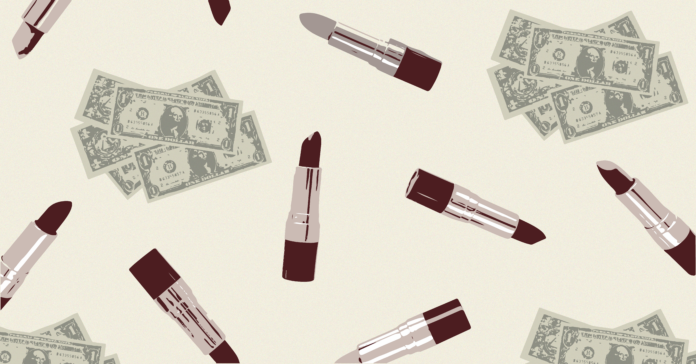 It may be hard at times to see past the glossy, highly-edited beauty ads that plaster everything from our social media feeds to our modes of transportation down to the core of the product and its influence; but ask any fashion economist and they'll happily corroborate that the beauty industry has an important role to play in the health of the economy at large.
The items selling out at your neighborhood beauty counter may seem inconsequential to the state of the economy, but a simple cursory search will reveal quite another story. Allow me to introduce The Lipstick Index. A phenomenon with roots dating back to the 1920s that was coined in 2001 by Leonard Lauder, of Estee Lauder. During an economic downturn, Lauder found that lipstick sales had an inverse relationship to the state of the economy overall. Using this data, along with similar findings from Great Depression era statistics, a trend was established. In other words, lipstick sales could be a major clue about whether a recession is looming—or already underway.
While the term was coined in regards to the aforementioned products, in 2008, lipstick wasn't the item sprinkled into shopping carts, but rather nailpolish captured consumers hearts. It is important to note that during another, more recent period of economic irregularity – the 2020 pandemic – consumers masked up and stayed home leading to a decrease in lipstick sales in favor of fragrance. These instances illustrate that even though it is not always lipstick, the inverse relationship has continued in recent downturns.This year alone, fragrance, makeup, skincare, and personal care sales will make up a projected $510 billion, making these industries ones to watch.
Two years later with mask sales on the decline, lipstick again reins supreme. As we look ahead to the impending 'will they won't they' whispered threats of a recession nipping at our heels, consumers are right on schedule with lip makeup spiking 48 percent in the first quarter of 2022, according to Natalia Bambiza, an analyst for NPD market research group.
So what does this mean for the average consumer, investor and business owner? Let's take a moment to delve into some potential outcomes of this effect and the correlation between fiscal concerns and what I am coining 'frugal frivolity.'
The lipstick index theorizes that while people cut back on things like eating out and gym memberships when the economy is in crisis, they flock to small luxuries, like lipstick or cookies. Economic anxiety and retail therapy are in my mind as divine a match as peanut butter & jelly. Despite the conventional thinking that when financial uncertainty rises and discretionary income shrinks, shopping will be first at the chopping block, the Lipstick Index disproves this.
I have deduced this frame of thought from the lipstick index: think big, shop small. A quick look at companies that stay in the black during economic downturns will find that too-big-to-fail corporations like Target and Walmart keep rising to the foamy top of the latte. Here is where the small comes in. Lipstick and other 'frugal frivolities' are a financially digestible distraction for the one-stop shopper looking for a budget-approved lift. Think candles. Think hair clips. Think novelty items. Think $20-and-under goods that a consumer in many cases already has a plethora of at home…like lipstick.
If big companies can think small, and create and expand these categories of in-house goods or partner with smaller, more buzzworthy brands that have gained an increasing piece of the proverbial e-commerce pie, they can continue to prosper. The stock takeaways are obvious, but the implications for small businesses and e-commerce one-offs is simple: work on partnerships and expand your array of 'frugal frivolities.' By focusing on low-priced items that make people want to smile and therefore shop, without digging too deep into their pocketbooks, companies large and small can prep themselves for the rumblings of economic uncertainty.