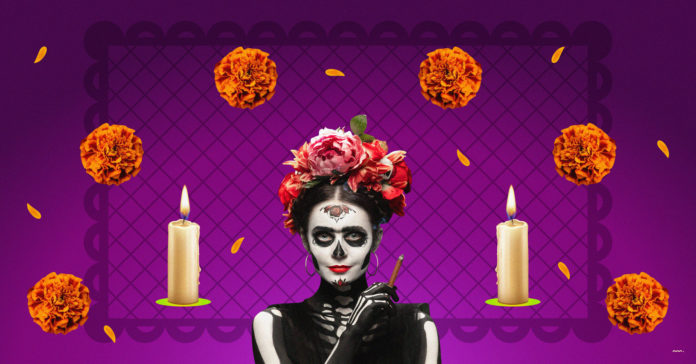 Day of the Dead, or Día de los Muertos, is a Mexican tradition that brings families together to remember loved ones who have passed away.
Each Nov. 1, relatives and friends honor the lives of the deceased with displays of food (such as tamales, chilis, water, tequila and pan de muerto), flowers, mementos, and decorations that are symbolic of the person they miss and care about. The items are placed on altars, known as ofrendas, in hopes of enticing the souls to return for a visit. 
According to History.com the displays include all four elements of life: water, food for the earth, a candle for fire, and streams of colorful tissue paper cut-outs known as papel picado for wind. 
Normally, friends and family gather side-by-side to share stories, light candles, or read poems and letters. It's a sacred and sentimental time to grieve and commune.
This year, the celebration will likely look very different due to the pandemic.
The Centers for Disease Control and Prevention suggests activities that are fitting for social distancing. Some recommendations include preparing traditional family meals for family and neighbors, playing music, decorating masks, setting up some pillows and blankets for the deceased, and having a virtual celebration.
In San Antonio, there will be an illuminated virtual Day of the Dead River Walk parade.
The University of Texas at San Antonio is holding a virtual Día de los Muertos exhibit.
In Dallas, there are virtual ofrenda tours going on.