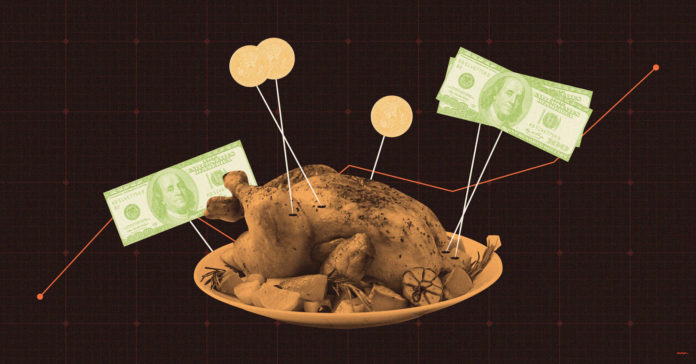 How much will we spend on Thanksgiving dinner this year? The pandemic could mean fewer guests for the sake of social distancing but the ingredients for the feast may look the same, here we look at how much it will cost to create a special meal for our loved ones.
You may find the cheapest Thanksgiving dinner coming from Aldi's this year, according to CNBC Make It, which shopped five major grocery stores, Aldi, Costco, Trader Joe's, Walmart and Whole Foods Market.
The test meal for four people shows Aldi's Thanksgiving dinner is $27.81 and $6.95 per person. Cranberries were on sale at Aldi's, along with apples, chicken broth, and crescent rolls. The lightest turkey priced out to $8.50.
The most expensive Thanksgiving dinner is from Costco, ringing up at $79.88, but remember the retailer sells bulk-items so you are getting two or three times the quantity. The test meal, CNBC Make It reported, could feed about 10 people with leftovers, as opposed to feeding only the four guests that was tested for.
Trader Joe's is priced in the middle, with a Thanksgiving dinner for four priced at $55.
At Whole Foods, a dinner for four will be around $57.
At Walmart, you'll spend around $32 for a Thanksgiving dinner, according to the test meal.
Please pass the stuffing and mashed potatoes.
The test meal shows a minimum 10-pound turkey at Aldi's is $8.42, the next cheapest turkey for your dinner table is at Walmart, ringing up at $8.06.
The most expensive turkey is at Trader Joe's, priced at almost $26.
Trader Joe's, Walmart, and Whole Foods are all priced about the same for chicken broth.
The test meal shows the price for stuffing mix at Trader Joe's and Walmart is about the same, but there's a drastic difference when you look at potatoes.
At Aldi's you'll spend $3.49 for a 5-pound bag of potatoes, this matches Whole Foods. Walmart's potatoes are $2.97, and Trader Joe's has potatoes priced at $1.99. Costco has 10-pounds of potatoes for $5.69.
Whole Foods has 12 ounces of fresh cranberries for $2.99 and for the same price, at Costco, you can get two pounds.
Depending on what are the guest favorites you may want to shop around, or on the other hand, there is always delivery.
Thanksgiving dinner to your door.
It takes all day to make and fifteen minutes or less to eat, so delivery may be an option that appeals to some families, especially with the other stressors that surround the pandemic this year, as well as those who want to skip the line at the grocery store.
The price breakdown of having Thanksgiving dinner delivered this year by four major online grocery services, Amazon Fresh, Fresh Direct, Peapod and Walmart varies from $40 dollars to close to $100 dollars.
Based on CNBC Make It, with Walmart's delivery fee of $9.95, a full Thanksgiving dinner is $40.16, including sweet corn, pie crust, coffee, and all other ingredients.
Amazon Fresh doesn't have a delivery fee and the cost of dinner is $40.59.
Keep in mind, prices can shift depending on the brand of ingredients and these prices were summed up with the lowest priced ingredients.
Remember the cost of hosting Thanksgiving dinner isn't just the food, there's the electricity, running the dishwasher, napkins, bathroom tissue, and so much more.
Want to go out for dinner on Thanksgiving? These Austin restaurants are open. Here's some restaurants in Houston cooking up Thanksgiving dinner. Here are tips for how to set the table for Thanksgiving during a pandemic.