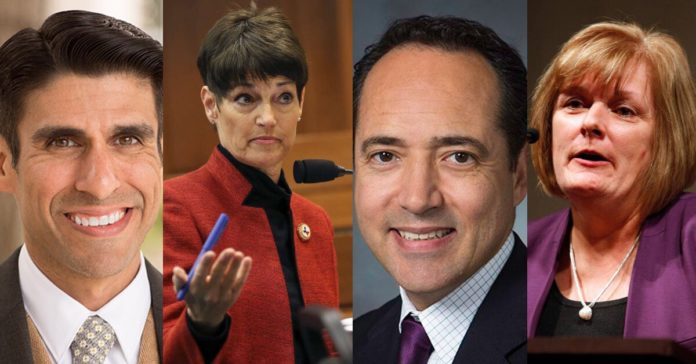 At this year's TribFest19, we had the opportunity to attend a panel regarding medical cannabis expansion legislation made during the 86th Texas Legislature. Moderated by the Texas Tribune's Alex Samuels, the panel featured state Sen. Jose Menendez (D – San Antonio), State Rep. Eddi Lucio lll (D-Brownsville), State Rep. Stephanie Klick (R- Fort Worth), and State Sen. Donna Campbell (R- New Braunfels). Here are five highlights that stood out from the talk.
1. Though legislation just passed, medical cannabis talks have been happening for years.

The idea of using cannabis for medical purposes isn't new, but it still causes some pearl-clutching in Texas. Sen. Jose Menendez, who filed unsuccessful medical marijuana expansion bills in the last two legislative sessions, has a personal tie to the issue. His wife's battle with multiple sclerosis, and the pain relief medical marijuana could provide, pushes him to work towards better access.

At one point he called into question the knowledge other panelists had on the subject, hinting that it can't be a "one size fits all" model (like most medications).

2. Some say more research is called for…others argue it already exists.
One reason cited against expansion was the need for more research. State Sen. Campbell (R), the sponsor of the passed bill and the one who approved the removal of research from said bill (yes, calling for more research and removing research from a bill is a strange move), noted a need for more than white papers and conversation. An audience member asked the panel how they would get around the federal policies regarding marijuana and research. Campbell said there were loopholes, but didn't get more specific than that.
In response, Menendez said, "we have the research. It's not the research that's the problem. It's the politics."
3. Fear clouds judgment, or at least makes it difficult to be neutral.
The atmosphere in the room was tense as questioning and discussion began. As the panelists spoke, it became obvious that division between political parties brought up concerns about who was doing enough (or not) for those in medical need. The conversation eventually moved towards whether medical marijuana was addictive and problematic, which led to a discussion around a fear of this leading to the legalization of marijuana for non-medical purposes, which the entire panel said they did not want.

4. This needs a Republican face in order to succeed.
Menendez has filed medical cannabis bills in two sessions, and they haven't gone nearly as far as Republican-authored bills. Rep. Klick and Sen. Campbell—the author and Senate sponsor of the medical cannabis expansion bill that passed this session—are now seen as the leaders of the medical cannabis movement. Campbell and Klick are both medical professionals and highlighted that people should beware of unregulated cannabis products when purchasing. The two are focused on containing the lower THC levels of medical cannabis.
5. Change happens when people get involved.

Rep. Eddi Lucio lll (D-Brownsville), when the coverage of PTSD was brought up, said that personal visits to the offices of officials make all the difference. "Take those veterans to the offices…[other legislators] can say no to me 100 times, but they won't say no to them."