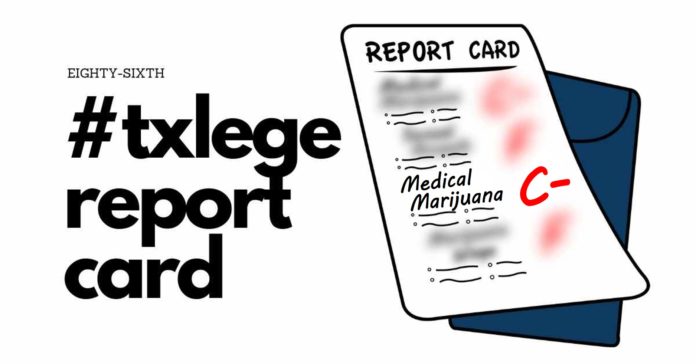 Though some progress toward medical marijuana access was made, many advocates for reform grow frustrated at the hurdles still present.

Background:
In the 2015 legislative session, Representative Stephanie Klick (R-Fort Worth) opened medical cannabis use to Texans suffering from intractable epilepsy with non-responsive symptoms to other approved medications under the Compassionate Use Act.

During the 86th legislative session, legislators worked to expand upon the Compassionate Use Act specifically creating a space to include other diseases and medical conditions in the access to medical marijuana.

HB 3703 authored by Representative Klick expanded the types of disease covered by the Compassionate Use Act to include all types of epilepsy, multiple sclerosis, amyotrophic lateral sclerosis, autism, incurable cancer, spasticity, or an incurable neurodegenerative disease.

HB 1325 authored by Representative Tracy King (D-Laredo) would allow for farmers to produce hemp at their discretion and allows for oversight from the Texas Department of Agriculture.

What happened:

Though the inclusion of a few conditions is a small step forward, advocacy groups were disappointed that lawmakers did a poor job of championing more access to medical marijuana for those suffering from PTSD, chronic pain and to veterans.

"Really (veterans) were insulted by the conversation that happened on the floor of the Senate," Heather Fazio, Executive Director of Texans for Responsible Marijuana Policy, said.

Fazio says the organization was especially disappointed by rhetoric that she says perpetuated fear and misunderstanding from Senators Brian Birdwell (R-Granbury) and the Donna Campbell (R-New Braunfels).

According to The Texas Observer, the two went back and forth describing the additions of other medical conditions as "a slippery slope" or even a "cliff" leading to legalization of marijuana usage during the Senate debate on HB 3703.

Though the 86th legislative session wasn't necessarily a "win" for medical marijuana advocates, it was encouraging to see lawmakers from both sides of the aisle coming together to at least begin a meaningful conversation around sensible and compassionate marijuana policies.

The discussion didn't take place without hitting a snag, however, because only a minimal approach to expanding the Compassionate Use Act actually passed into law, said Fazion.

"It's frustrating in Texas because we meet every two years and that means we wait for a year and a half for those patients whose every day lives are impacted by a child with special needs or debilitating medical conditions of their own and you can really feel it- that they have to wait again."

But Fazio is optimistic for the future.

"[The] House of Representatives is really taking action on what their constituents want to see when it comes to more sensible and compassionate marijuana policies. We're really glad to see that senators and representatives, that legislators across the board — regardless of policy affiliation — acknowledge that something needed to be done. But we're still terribly disappointed for the many patients that are still being left behind with this program. "

For medical marijuana efforts in the 86th Texas Legislature, Reform Austin gives lawmakers an C-.