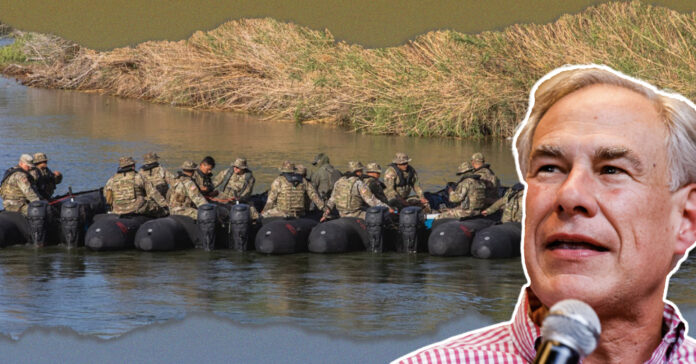 Gov. Greg Abbott's favorite project needs another billion dollars to stay afloat. Yes, you read that correctly, another $1.35 billion to keep thousands of Texas National Guard troops stationed on the U.S.-Mexico border. In total, Abbott has wasted invested, more than $4 billion in his baby: Operation Lone Star. 
According to The Dallas Morning News, on Tuesday, the head of the Texas Military Department told Senate budget writers that funding for the controversial border security push is expected to run out in September.

Just two months ago, Abbott defunded other state agencies to continue funding his border initiative, in total $495 million dollars were transferred from the Department of Criminal Justice, Department of Public Safety and Alcoholic Beverage Commission, the Health and Human Services Commission, the Juvenile Justice Department, and the Department of State Health Services.
In all, Texas' border security budget now stands at about $4 billion for the current two-year cycle, roughly five times the amount spent in 2019-2020, as reported by The Houston Chronicle.

Maj. Gen. Thomas M. Suelzer acknowledged the price "is not small" but called the return on investment "significant."

On Tuesday, a few senators raised concerns about the operation's growing price tag, but none called for ending the initiative.

"I would much rather use that border money for all the other things we need to be paying for, like education and health care and everything else, but we can't not protect our border," said Sen. Jane Nelson, R-Flower Mound.

"My question would be where does this end," said Sen. John Whitmire, D-Houston, noting that the "billions that we're spending" don't appear to deter the flow of migrants.

To justify the billions of dollars needed to fund Operation Lone Star, Abbott has pointed to a spike in illegal immigration. However, the multibillion-dollar operation has counted arrests for crimes with no connection to the border at all. It has also touted inflated arrest statistics, including tallies of drugs captured across the state in communities that received no additional resources from the initiative, ProPublica, The Texas Tribune and The Marshall Project found.
The news organization found that misdemeanor trespassing charges made up about 40% of Operation Lone Star's arrests from July through February.

State Sen. Juan "Chuy" Hinojosa (D) has questioned one of the governor's top officials as to "what happens" when the latest tranche of funds runs dry. Pointing out that Operation Lone Star is "costing the state taxpayers about $2.5 million a week."